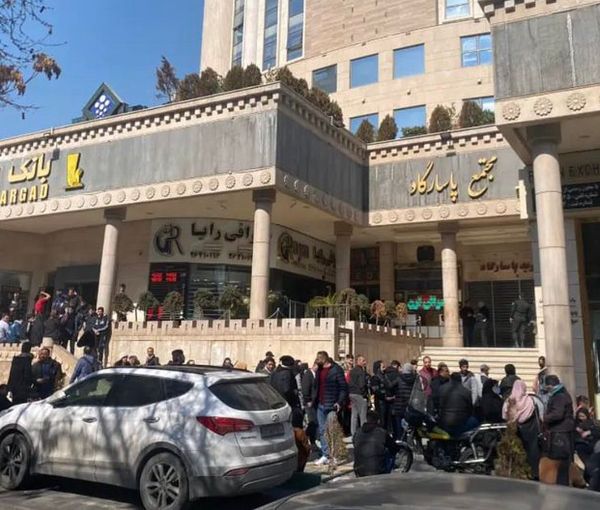 Trading In Tehran Bazaars Comes To A Halt Amid Currency's Fall
Trading in Tehran markets has largely come to a halt as the currency rial is near its all-time low, Iran International has learned from merchants and traders.
A textile trader told Iran International that "For now we have stopped selling our goods because we have no guarantee we can refill our stocks." He added that "a lot of merchants have lost money because their payables are in dollars while they have to sell their goods in rials."
Local media reported that the Central Bank of Iran intervened in the currency market by injecting $700 million in UAE dirhams on Sunday and the rial marginally rose from its all-time low of 600,000 against the US dollar. But such a sizeable intervention has not produced the desired result of stabilizing the rial.
First, the currency rose to 560,000 but after a few hours it dropped again, trading at more than 580,000 to the USD on Monday evening.
Parliament continued a third day of meetings about the currency crisis but there is little the legislature can do, except asking questions from President Ebrahim Raisi's government. On Saturday, the president's top economic aide, Mohammad Mokhber told lawmakers, "This is what it is," rudely dismissing their criticism.
The fact that the reported monetary intervention was conducted using UAE dirhams instead of US dollars might indicate a shortage of greenbacks in the central bank.
The same grim news about a halt in trading came from the goldsmiths market in Tehran, where the fast-fluctuating currency rates have forced retailers to hold on to their gold and jewelry.
A currency dealer told Iran International that curbside trading has become highly risky as plainclothes security agents are everywhere in areas where usually people buy and sell foreign currencies.
Trading has also decreased in the food wholesalers' market where one trader said goods such as sugar, oil and rice that can be stored have been shipped to warehouses, not to be sold until there is clarity with the value of the rial.
Pundits urged the government to tell the people what plans it has to tackle the crisis, but officials seemed bewildered and confused. The speaker of parliament Mohammad Bagher Ghalibaf (Qalibaf) was quick on Monday to claim that his fiefdom had predicted the currency crisis more than a month before and had warned the government. Others simply urged the government to "do something."
Tehran's Friday Prayer Imam, Kazem Sedighi, told the people to pray to fix the country's problems. "We are in an economic war," he said, just as the pioneers in Islam had to fight the unbelievers, this is also a holy war.
Foreign Minister Hossein Amir-Abdollahian was suddenly quoted as saying that during his visit to Iraq last week, he was told that the United States is open to resume nuclear negotiations. It was not clear why he had not disclosed the news three days earlier, except if suspicions that he tried to boost the rial was the real reason behind the belated revelation.
Some media outlets and commentators are speculating about changes in the government lineup, as many have been insisting for a long time that Raisi's ministers are not up to the job.
One hardliner pundit, Mohammad Sadegh Koushki was quoted as saying that "If Mr. Raisi had the same information he has today prior to the presidential elections, he would have never become a candidate. Most presidential candidates [in Iran] have no idea about the magnitude of the job."