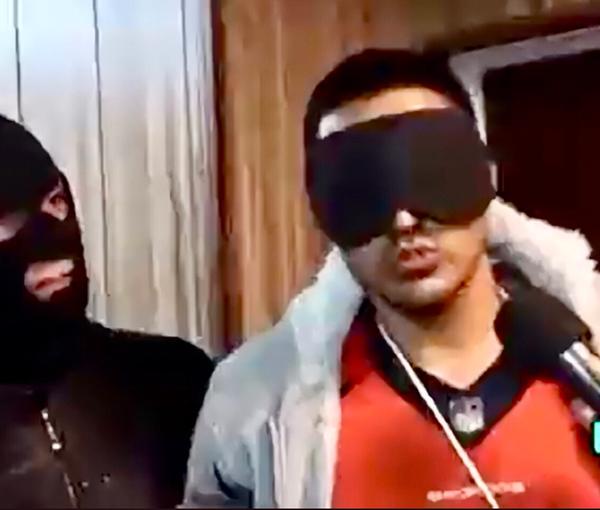 Iran Adopts A New Tactic - 'Forced Statements' On Social Media
After long airing forced televised 'confessions' of dissidents, Iran's regime is increasingly coercing individuals to post dictated statements on social media.
Last week a video of a woman unveiling at an official event in Tehran went viral on social media. On Wednesday, the same woman posted a video of herself apologizing for her "rash" behavior.
Zeynab Kazempour, an engineer, removed her headscarf during the annual assembly of Tehran Construction Engineering Organization (union) after her application to run as a candidate for the board was turned down, presumably on the grounds that she did not abid by the compulsory hijab rules.
In the video, Kazempour is making a short statement on the stage of packed auditorium -- with her headscarf around her neck instead of her head -- about being excluded from the union's elections. She then throws the headscarf on the floor while storming out as many of her male and female colleagues, both on the stage and among the audience, cheer and applaud her.
"I reacted momentarily, without premeditation … I regret [my reaction] and apologize to the public," she says in the video.
"Releasing this type of videos has long precedence," Dadban, a team of volunteers who provide legal advice to activists and protest victims, tweeted Wednesday, adding that security bodies are now forcing dissidents to make coerced statements in front of their own cameras instead of the cameras of the security forces for television.
Iran's state-run television has aired the so-called "confessions" or forced statements of dissidents, activists, individuals accused of terrorism, economic sabotage, blasphemy, and even family members of government violence victims since the very early days of the Islamic revolution to justify prosecution, or execution, of individuals and to discredit opposition groups.
In October, statements very likely to have been acquired under duress from dissident rapper Toomaj Salehi were aired by the state television.
Screenshot of Kazempour's statement of "apology" on social media
Many Iranians also believe that since his arrest in September, and being released on bail in October, another popular artist Shervin Hajipour whose song "Baraye Azadi" (For Freedom) has become an anthem for Iranian protesters has been under pressure to post "dictated" content on Instagram.
Shervin whose song won this year's Grammy Awards' "Best Song for Social Change", a new category, said in a post on Instagram after his release from prison that he was sorry that his song was being used by dissident political groups outside Iran. After winning the award he also said in a post he regretted that his award was presented, in absentia, by the US First Lady Jill Biden.
The once quite effective televised "confessions" have largely lost their clout in the Iranian society where many repudiate them as mere propaganda. As a counter-measure, many now even refuse to share or like social media posts that they think have been dictated to the author by security forces or extracted under duress in prison and even block those who circulate such videos on their accounts.
"Such [coerced] confessions may have worked in the early days of the revolution but fortunately they have lost their [desired] impact now due to being repeatedly used for all sorts of things. These have even made the incompetent security organs the butt of jokes," Maziar (Mazyar) Ebrahimi, a businessman who was tortured to 'confess' that he had been spying for Israel and was involved in the assassination of Iranian nuclear scientists in 2012 tweeted about the airing of anti-compulsory hijab activist Sepideh Rashno's forced statements in August.