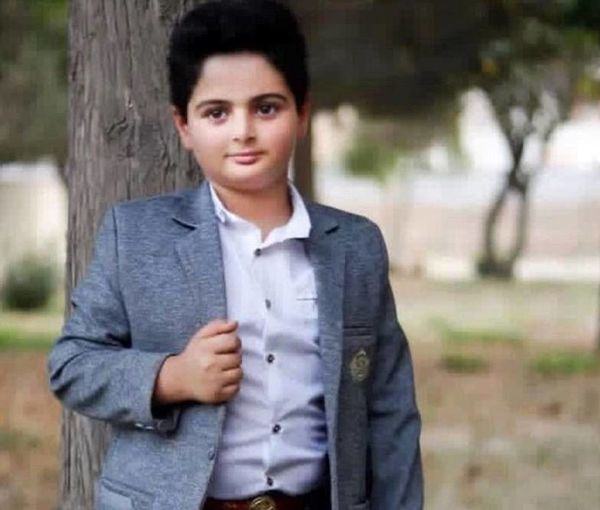 Ten-Year-Old Victim's Mother Forced To Deny Criticism Of Iran's Leader
The mother of ten-year-old Kian Pirfalak killed by security forces in Iran was forced to deny she accused the Supreme Leader of responsibility in her son's death.
Kian's mother, Zaynab Molaei-Rad made a fiery speech at her son's burial Friday. There is a video of her reciting a nursery song the words of which she changed to convey a strong message of protest against Supreme Leader Ali Khamenei who she seemed to hold directly responsible for her son's killing.
"How's Mister Seyyed Ali [Khamenei] doing? He has a long beard coming down to his chest, a chest full of hatred. His heart is like stone, all he says is nonsense!" she sang in a voice hoarse from crying to a massive crowd who attended the funeral.
The Khuzestan channel of the IRIB aired a video of her Friday night in which she appeared to deny the authenticity of her posts on Instagram and her account of her son's death.
In the video, Kian's mother who looks deeply distressed is wearing a red coat, very unconventional for a mother who has lost her beloved son. "Please don't misinterpret my remarks … My child was martyred … I didn't recite anything … Don't use my son's death for your own ends," she says in the video.
Kian Pirfalak and her mother
Interviews such as this in which victims or their families repeat authorities' claims under duress are generally referred to as "coerced confessions" in Iran. Social media users who support the protesters have boycotted sharing the interview made under duress.
The family car carrying Kian, his parents, and three-year-old brother Radin was targeted by plainclothesmen in Izeh, a town of around 100,000 in the east of the oil-rich Khuzestan Province. Kian's father was also seriously wounded in the shooting and is still in hospital. Authorities claim the family car was attacked by "terrorists".
A former lawmaker from Izeh, Hojjatollah Darvishpour, has confirmed the account Kian's mother gave at the funeral and said she has provided all the details about those who shot and moved her son and husband to the Red Crescent and then hospital.
Darvishpour told the state broadcaster (IRIB) Saturday that Basij militia and other security forces were stationed at the Red Crescent at the time of the incident. He also said the fatal shootings in Izeh that claimed seven lives occurred in various places, not in one place by two unidentified motorcyclists as authorities have claimed.
Speaking to Etemad newspaper, Sajjad Pirfalak, Kian's uncle, has also confirmed Mrs. Molaei-Rad's account of the shooting and said the family had to hold on to the body at a relative's house because they did not want it to be "stolen" by authorities like the bodies of other victims.
There are many reports of authorities not handing over bodies of protesters to their families, claiming they were "martyred by terrorists", and using the bodies in state-sponsored funerals meant for propaganda.
Ahead of World Children's Day (November 20), the United Nation's children's charity, UNICEF, said in a statement that it remains "deeply concerned" by reports of children being killed, injured, and detained in Iran.
UNICEF said despite lack of official data, an estimated 50 children have reportedly lost their lives since late September. "The latest of such horrible losses was 10-year-old Kiyan [Kian] who was shot dead while in the car with his family. This is terrifying and must stop."
Popular Iranian actress Mahtab Karamati in an Instagram post earlier this week said she was resigning from being UNICEF's goodwill ambassador, apparently in protest to the organization's silence about government violence against children in Iran in the past two months.