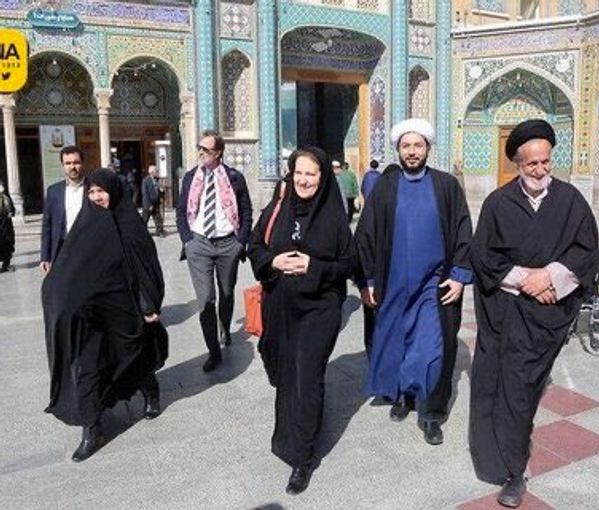 Switzerland Claims Iran Envoy Visit To Qom 'Part Of Interreligious Dialog'
The Swiss Foreign Ministry defended the decision by its ambassador in Tehran, Nadine Olivier Lozano to wear the full body veil, the chador, on a visit to Qom yesterday (Wed) following global outrage claiming the undermined five months of protests against the compulsory hijab.
Léa Zürcher, the Foreign Ministry spokesperson, claimed the ambassador had visited the holy city of Qom to attend an interfaith event at an unnamed university. Zurcher claimed "a short visit to an important religious site took place" and "the applicable dress protocol for women was followed".
However, the black chador which covers the whole body, is not required of visiting female foreign dignitaries who can simply wear a long headscarf at the site.
Social media was flooded with condemnation, including leading political voices around the world who said the move flew in the face of global support for the protests which were sparked by the death in custody of Mahsa Amini, arrested by the morality police for the inappropriate use of her hijab. The nationwide protests have since seen hundreds killed and thousands more arrested since September in brutal crackdowns by security forces.
Hillel Neuer, Executive Director at Human Rights Watch, tweeted: "Meet Nadine Olivieri Lozano, Swiss Ambassador to Iran and star of the murderous regime's propaganda. While women in Iran are being beaten, blinded, tortured, raped and killed for daring to protest the compulsory hijab laws, she is complicit in her head-to-toe chador and hijab."
The Swiss embassy, responding to the global outrage, denied the move undermined the human rights aspect of the protests which deny women the basic right to choose how to dress.
"Switzerland repeatedly and clearly takes a stand on human rights violations in Iran," Zurcher added. "In recent months, it has repeatedly and unequivocally condemned the use of violence against the demonstrators at various levels and also called on the Iranian authorities to choose the path of de-escalation and to seek dialogue with the demonstrators."
During the visit, Lozano is seen with several clerics, gifted a religious book from one of the shrine's caretakers at Iran's second most holy city, after Mashhad, home to the biggest and most prestigious of Iran's Shiite seminaries. Qom has been at the center of controversy for years, its institutions being disproportionately funded, not least, while the country is suffering from a bitter economic crisis.
Institutions such as the Al-Mustafa International University attract foreign students from countries across China, Africa and Latin America, teaching them the foundations of Shia Islam to take back to their countries, at the expense of the Iranian people, while millions of Iranians cannot afford to eat or heat their homes during the bitter winter months.
Masih Alinejad, a leading Iranian activist in exile, whose life was recently threatened by the country's security forces, called the ambassador's decision "shameful" and a "betrayal to Iranian women".
She tweeted: "While teenagers & women are getting beaten, jailed & killed for saying NO to forced hijab, NO to gender apartheid regime, Swiss ambassador in Iran obeyed forced hijab …Switzerland must respond why they took side with our killers."