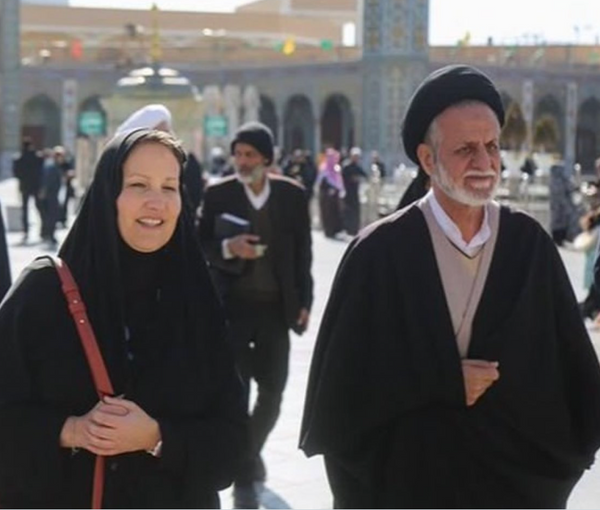 Iranians Outraged By Swiss Ambassador's Black Veil In Shrine Visit
Iranians opposing compulsory hijab are outraged by the Swiss envoy's decision to wear a long black veil during a shrine visit which a hardliner website has described as "dazzling".
Photos of Nadine Olivieri Lozano wearing a long black veil that covers the head and the whole body during a visit to Qom were widely published by hardliner media with headlines such as "Swiss Ambassador in Iran Wears Chador" by Hamshahri Online and "Swiss Ambassador's Visit To Our Lady Masoumeh's Shrine in Dazzling Hijab" by Arsheh Online.
In the photos, Lozano is seen with several clerics at the shrine and receiving a gift, a religious book, from one of the shrine's caretakers.
These media outlets said Lozano had traveled to Qom, about 120 km to the south of Tehran, to familiarize herself with Islamic culture and art and the architecture of the shrine. Qom is Iran's second most important religious city, after Mashhad and is home to biggest and most prestigious of Iran's Shiite seminaries.
"Instead of reacting to the atrocities of the regime against women for flouting their hijab or visiting the graves of women and girls who were innocently killed, the Swiss ambassador, who is a woman herself, dons a chador and visits the Shrine of Masoumeh in Qom alongside their killers," one of the critics, Sarbaz-e Vatan (Soldier of the Motherland), twitted with a photo showing the Swiss ambassador walking with a cleric in the courtyard of the shrine.
Mehdi Hassanpour, another critic, argued in his tweet that the Swiss ambassador's wearing of the black veil was an insult to both Iranian and Swiss women and demanded her resignation.
Others pointed out that by visiting the shrine and wearing a chador, the Swiss ambassador had provided the "oppressors" of the Iranian women with an opportunity for good publicity at a time when Iranian women were fighting for freedom from compulsory hijab.
Federica Mogherini Former High Representative of the European Union for Foreign Affairs and Security in 2015.
Wearing a chador is required at Shia shrines which often provide them to women who visit. Chadors, however, do not have to be black. The black chador which the Swiss ambassador was wearing during her visit is lauded by the religious establishment as the 'ultimate hijab'. Visiting female foreign dignitaries are also always required to wear a long headscarf but not a chador during their visit.
Hardliners and clerics of Qom often complain about women in their city not observing the hijab rules "appropriately" and demand its stricter enforcement by the authorities.
According to a commentary by the Revolutionary Guards (IRGC) linked Fars news agency two years ago, the number of women who traditionally wore the black chador was dropping by the day in Qom.
Some of the top clerics in Qom and religious hardliners have repeatedly demanded from the authorities to enforce the hijab rules in their religious city more strictly and to put an end to what they believe are signs of moral depravity among its citizens.
There has been a spate of mysterious poisonings in girls' schools in Qom since November 30. On Wednesday, three other schools in Qom were attacked and fifteen girls were hospitalized with various symptoms of poisoning.
Some officials have also said that the poisonings could be "deliberate". In a letter to the prosecutor of Qom Public and Revolutionary Courts Monday, Prosecutor General Mohammad-Jafar Montazeri said "deliberate criminal activity" was suspected in the school poisonings.
Many say on social media that the poisonings that have affected at least 400 girls so far are the work of an extremist group that wants to force girls give up their education by acts of terror.