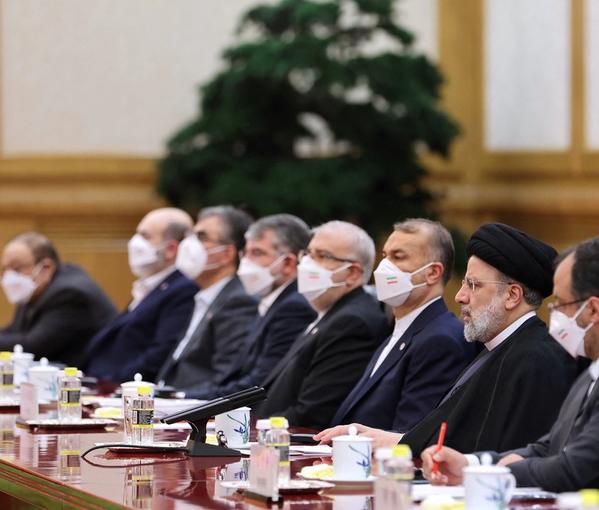 China's Xi Calls For Quick Resolution Of Iran Nuclear Dispute
China's President Xi Jinping has called for resolution of the Iran nuclear issue while expressing his support for Tehran in safeguarding its rights and interests.
China will continue to "participate constructively" in talks to resume negotiations on implementing the Iran nuclear agreement soon, Xi told Iran's President Ebrahim Raisi in talks in Beijing, according to Chinese state media.
The 2015 nuclear agreement (JCPOA) limited Iran's uranium enrichment program to make it harder for Tehran to develop nuclear arms, in return for lifting international sanctions.
But in 2018 then-US President Donald Trump ditched the deal, saying it had not done enough to curb Tehran's nuclear activities, and reimposed sanctions. China has been violating those sanctions, especially since President Joe Biden got elected, buying the bulk of Iran's illicit oil exports.
China has criticized Washington for withdrawing from the deal and insists that the United States should make the first move in reviving the pact.
The Biden Administration came to office pledging to return to the accord and began indirect talks with Iran through the other JCPOA participants, France, Germany, the United Kingdom, Russia and China in Vienna. Negotiations lasting 18 months failed to reach an agreement last year.
Following the start of antigovernment protests in Iran and a deadly crackdown by the government, the US announced that it is not focused on the nuclear talks any longer and instead wants to support the rights of Iranian protesters.
Ebrahim Raisi and China Xi Jinping in Beijing. February 14. 2023
In September, the United States imposed new sanctions on companies involved in Iran oil exports, including five based in China. Washington said it would continue enforcing sanctions on Iran's oil and petrochemical sales so long as Tehran continues to accelerate its nuclear program.
Ahead of his three-day visit that started on Tuesday, Raisi wrote an editorial in China's state-controlled People's Daily in which he said both countries believe that unilateralism and "violent" measures such as the imposition of "unjust" sanctions are the main causes of crises and insecurity in the world. This was a clear broadside aimed at the United States.
In the editorial, Raisi described China as an "old friend", and said Iran's efforts to strengthen relations would be unaffected by regional and international situations.
The Iranian regime is hard pressed by a serious economic crisis triggered to a large extent by more than four years of US economic sanctions. It is also more isolated than ever, by the West that strongly objects to its bloody crackdown on protests and supply of drones to Russia.
"No matter how the international and regional situation changes, China will unwaveringly develop friendly cooperation with Iran and promote the continuous development of the China-Iran comprehensive strategic partnership," Xi said.
China said it is willing to deepen cooperation with Iran in trade, agriculture, industry and infrastructure as well as to import more high-quality Iranian agricultural products.
Xi and Raisi pledged to forge a stronger alliance when they last met in person on the sidelines of the Shanghai Cooperation Organization summit in the Uzbek city of Samarkand in September.
Iran and China signed a 25-year cooperation accord in 2021, under which China is to invest billions of dollars in Iran's petroleum sector in exchange for the supply of oil and petrochemical products. However, the document signed is a general wish-list and so far there are few practical plans to expand cooperation. Iranian media has said that Raisi's China visit pursued the goal of implementing the agreement.
China is already Iran's biggest trading partner.
However, many Iranians look at ties with China suspiciously, and those opposed to the regime see Beijing as a supporter of Iran's authoritarian rulers.
With reporting by Reuters