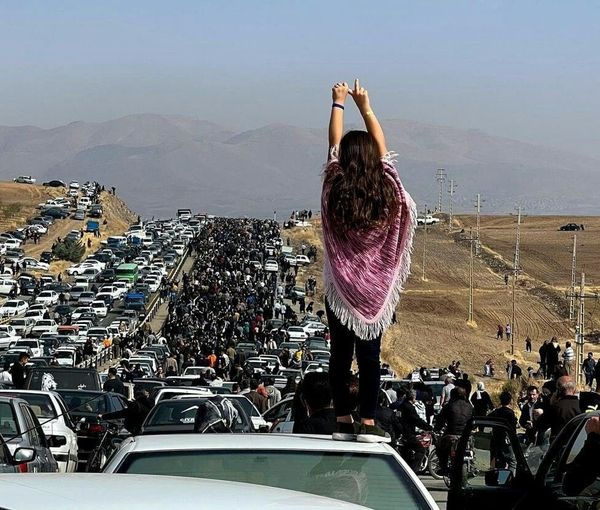 Women's Declining Economic Role Key Factor In Iran Unrest - Ex-Official
Ali Rabiei, a former labor minister and government spokesman, says discrimination against women in Iran is a significant factor propelling Iran's protests.
In a note published by the reformist Etemad newspaper Monday, Rabiei said one must examine economic indices with a gender-based bias to understand why women are such a strong driving force in the current protests.
He pointed out that the rate of women's participation in Iran's economy has never exceeded 17 percent compared with 60 percent for men, whereas the global average for women stands at 50 percent, adding that the rate which stood at 12 percent in 2014 climbed to 17.6 percent in 2018, the highest in the past two decades.
Rabiei added that unfortunately this modest gain was wiped out in the past three years, mainly because of the COVID pandemic and women's economic participation now stands at 13 percent. "One of the country's fundamental problems is that women's health and education has improved but there have not been opportunities for women to expand their role in the economy and politics.
Former government spokesman, Ali Rabiei
Around 25 percent of Iranian women over the age of eighteen have higher education.
"This means that women have achieved social status but have not had the opportunity to participate and faced barriers. The same applies to the middle class," he wrote.
"Undoubtedly a section of those demanding change in the recent protests belong to this group," Rabiei said and opined that the feminine character of the protests can be the outcome of inequality that bars women from accessing economic opportunities.
But the issue for many women is not just jobs, as they understand that there is systemic discrimination against them and lack of social freedoms. After all, the protests did not ignite because of economic demands, but for the freedom to walk in public free of the Islamic dress code.
Hardliners generally define the role of women in society first and foremost as mothers and wives. In his speeches, Supreme Leader Ali Khamenei often tells women to marry early and have children. He has also insisted, on many occasions, that wearing the hijab does not limit women's social role and their careers.
Hardliners in Iran protest against the UN 2030 Agenda in 2017
"One of the greatest mistakes of western thinking about the issue of [the role of] women is this gender equality... Why should women be asked to carry out tasks [fit for men]? What is the glory in having women carry out tasks [fit for] men? I am sorry that sometimes women themselves are sensitive about this issue," he said in a speech in April 2014.
"The main issue with respect to women's emancipation in the West is dragging women from home to the factory, using them as cheap labor," he said in a recent speech in which he insisted men and women have equal rights in Islam but different roles and that women's primary and most important duty is being mothers and wives, that is, their role as housewives.
With Khamenei's backing, hardliners battled fiercely to prevent the government of President Hassan Rouhani from implementing the UN's 2030 Agenda for Sustainable Development, particularly its Goal 5 regarding eradication of discrimination against women and their empowerment.
Hardliners held rallies to protest the government's plans to implement the UN guidelines and even tried to smear Rouhani during his reelection campaign in 2017 by claiming that the guidelines included immoral things such as "teaching students about homosexuality".
Ensieh Khazali, Vice President for Women and Family Affairs, said last week that the UN 2030 Agenda for Sustainable Development is now being implemented but certain parts would be modified according to the government's own views regarding their appropriateness.
Many have strongly criticized Khazali for her unverified claim about the implementation of the UN guidelines during a live televised debate with her reformist predecessor Masoumeh Ebtekar. Critics say the reason for hardliners' objection to the implementation of the guidelines was their political rivalry with Rouhani.