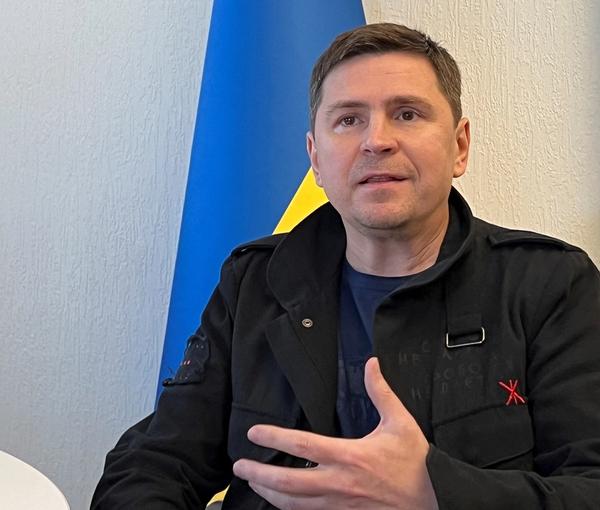 Iran Summons Ukraine's Envoy Demanding Clarification Over Drone Attack
Iran's Foreign Ministry has summoned Ukraine's charge d'affaires over remarks by a Kyiv official seen by Tehran as Kyiv's role in a recent drone attack in Esfahan.
The ministry summoned the Ukrainian envoy to ask for explanation in reaction to comments by Mykhailo Podolyak, an adviser to President of Ukraine Volodymyr Zelenskyy, about the drone attacks against the Defense Ministry's facility in Esfahan (Isfahan) on Saturday night.
In a tweet in which Podolyak was mentioning some telegraphic developments of the Russian invasion, he said, "Explosive night in Iran - drone and missile production, oil refineries." He continued, "Ukraine did warn you," referring to repeated calls on Tehran to stop supplying arms to Moscow.
Podolyak said, "War logic is inexorable and murderous. It bills the authors and accomplices strictly," adding, "Panic in the Russian Federation -- endless mobilization, missile defense in Moscow, trenches 1,000 kilometers away, bomb shelters preparation."
Nour News Agency, affiliated with the Iranian Supreme National Security Council (SNSC), said earlier that "If Ukraine's government fails to officially renounce the tweet by Zelenskyy's advisor, which implied Kyiv's complicity in the move against Iran, it will have severe consequences for them."
Tehran is questioning Kyiv's involvement in the attack despite reports that point the finger at Israel. The Wall Street Journal said in an exclusive report Sunday that Israel carried out the drone attack on the military center for research and development.
Screen grabs from videos sent by citizens in Esfahan of the explosions at the military facility on January 29, 2023
Russia on Monday also condemned the drone strike and warned against what it called "provocative" actions that could trigger an escalation in an already tense situation.
"Such destructive actions could have unpredictable consequences for peace and stability in the Middle East," Moscow's Foreign Ministry said.
Tehran has supplied hundreds of drones to Russia since mid-2022 that have been used during missile attacks to inflict more damage or to swamp Ukrainian air defenses. The United States and Europe have imposed new sanctions on Tehran for its expanded military ties with Moscow and also its deadly crackdown on protests since last September.
The attack targeted what some sources said was Material and Energy Laboratory of Esfahan with what the defense ministry called "small drones." Videos citizens sent to Iran International showed an explosion, although the government claimed its air defenses had fended off the attack. Small or quadcopter drones, however, cannot fly hundreds of kilometers to reach Esfahan, located in central Iran. If indeed the attack was carried out with small drones, it would mean operators were present on the ground, in Iran.
According to the Israeli weblog Intellitimes, the target of the drone attack was the "Iranian Space Research Institute" affiliated with the ministry of defense. The Jerusalem Post, citing Western and foreign intelligence sources, also wrote that contrary to Iran's claim the attack on "advanced weapons development" facility was a "tremendous success".
The attack on Saturday comes as the United States and Israel have expanded close military coordination, including drills just days earlier, as well as discussing ways to combat Iran's capabilities.
Tehran's supply of large, kamikaze Shahed-136 drones with a 45-kilogram warhead to Russia are a concern for the US and NATO. Russia has used hundreds of these drones to target Ukraine's civilian infrastructure.
In addition to the attack, an aircraft targeted a convoy of trucks crossing from Iraq to Syria carrying suspected Iranian cargo on Sunday.
Government controlled media in Tehran claimed that the 25-truck convoy attacked on the Iraqi-Syrian border was carrying flour and food, while the route taken is a customary juncture for weapons deliveries to Iranian proxies in Syria and Lebanon. Suspected Israeli attacks have targeted trucks and warehouses near the Iranian controlled al-Qaim border crossing multiple times.