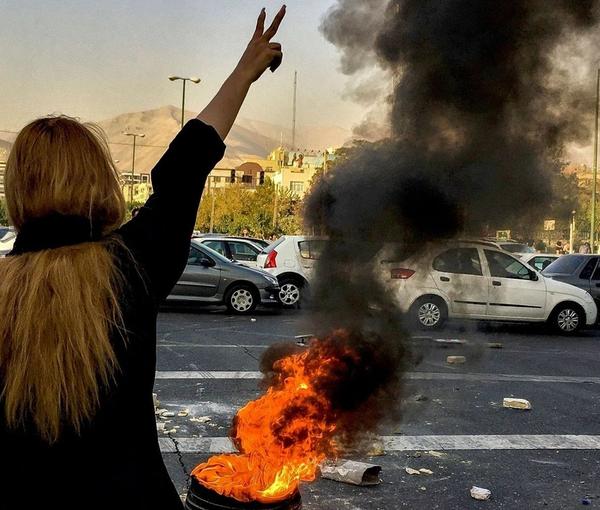 Islamic Republic Uses Different Methods To Torture Protesters
The Islamic Republic continues to use a wide range of punishments for anyone who protests its conduct, but the range of its torture techniques is increasing during the current protests. 
The regime's security forces use violence against protesters on streets, kicking them violently, beating them with batons and shooting at them, but the psychological and physical torture that they exert on detained protesters are harsher and unrelenting. 
The regime's agents beat protesters so badly that in some cases when they appear in court the scars and bruises are so obvious that people can easily understand confessions were made under duress. 
The Center for Human Rights in Iran said December 6 that there have been many reports of detained university students being tortured and sexually abused while in state custody. Soha Mortezaei, a former Tehran University female student, who has been repeatedly arrested for engaging in peaceful activism, was physically and sexually assaulted while being transferred to Evin prison after her arrest. "Officers tied Soha's right hand to the top of one seat and her right leg to the top of another seat while suspended, she was beaten and sexually abused by a female officer," reported the University Students Trade Unions Council on November 27. 
Most of the protesters who are being kept in main prisons are mainly subjected to psychological torture but reports of physical torture get more attention from the public and rights groups. The detainees are constantly threatened to be killed or raped and some of them are victims of white torture, in which prisoners are kept in solitary confinement without any human contact for very long periods of time. 
Some protesters, who were usually injured during their arrests or became ill inside prisons, are deprived of medical care or treatment for their wounds as a form of torture. The protesters who are suffering from chronic conditions and need daily medication are put under pressure by not giving them their medicines. 
Faraz Haghighatjou, a resident of Shiraz and a member of the oppressed Baha'i religious group, who was arrested during protests in December, once called his family and asked for his medicines and warm clothes but his family could not even find out where he is being kept. 
A political graffiti in support of the protests
Imprisoned civil and human rights activist Narges Mohammadi last week recounted harrowing details of what is happening inside the women's ward of Tehran's notorious Evin prison. She said almost all 60 female prisoners there have experienced "terrible inhumane tortures". These women spent from several months to about two years in solitary confinement, some without any human contact.
Another report released by an activist group earlier in the week says 16 young people arrested in Urumieh in November, including several minors, have been tortured and threatened with rape to incriminate each other. The group said that IRGC's intelligence organization in West Azarbaijan Province has been torturing these young people to 'confess' against each other and say they are in contact with foreign intelligence services.
The protesters who were executed by the regime on trumped up charges in December were also said to have confessed to crimes they did not commit under physical and mental torture in prison. 
A victim from the religious city of Mashhad in northeastern Iran, said she and eleven others were stripped in front of male officers and then forced to squat jump while the officers "frenziedly laughed." Others have also said officers had groped their backsides and squeezed their breasts during arrest and interrogations. Many say they were threatened with rape or even rape of their family members.
Armita Abbasi, a young woman of 20, was reportedly raped brutally after being arrested on October 10. She was taken to a hospital in Karaj on October 18 by security forces with multiple injuries including rectal bleeding and evidence of repeated rape. Reportedly, they tried to pressure the doctors to attribute the rape trauma evidence to a time prior to her arrest.
Influential Sunni cleric Mowlavi Abdolhamid in his Friday sermon December 23 referred to reports of rape and torture of detainees. In a tweet on December 5, Abdolhamid had said the accounts of sexual assault on female detainees to humiliate them or to force them to make false "confessions" against themselves corroborate the allegations made by the media.
In a report on December 21 entitled "Brutal Repression in Kurdistan Capital", Human Rights Watch said it has documented serious abuses, including sexual harassment and assault against detainees.
Such incidents have been reported from detention centers, prisons, and sometimes in places outside the official system such as warehouses out of town in several major cities including Esfahan, Rasht, Tehran, Karaj, Bandar Abbas, Ahvaz, Tabriz, Sanandaj, Amol, and Mashhad.
The torture of prisoners is not limited to the protesters arrested in the current wave of nationwide rallies ignited by the death of 22-year-old Mahsa Amini. The regime is known for its inhumane methods regularly reported by human rights groups.
In a letter by Sepideh Kashani, one of the ecologists and environmentalists detained since 2018 based on accusations of spying for foreign governments, said her interrogators tortured and threatened her with sexual assault for over 1,200 hours during the eight months that she was held incommunicado. She said that her interrogators forced her to stand for hours and was not even allowed to lean his head against the wall. She added that she was being interrogated in a room whose walls were covered by the blood of other protesters.