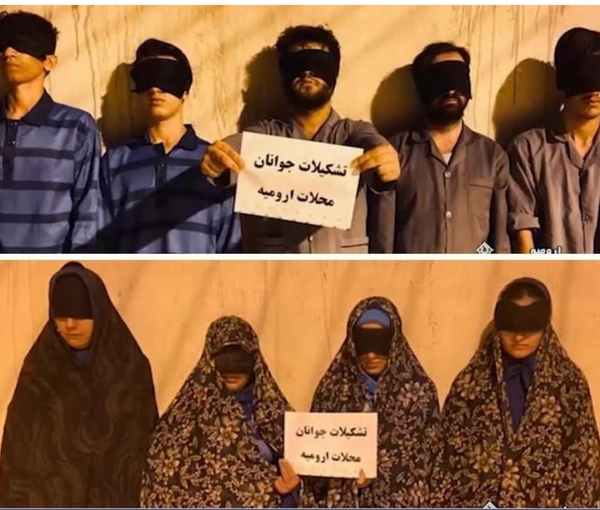 Youth Arrested In Iran Tortured To Accuse Each Other
An activist group says sixteen young people arrested in Urumieh in November, including several minors, have been tortured and threatened with rape to incriminate each other.
Follow Up Iran (komite-ye Peygiri-ye Bazdashtshodegan) which on its twitter account introduces itself as a group of activists said in a brief report on its Telegram page Sunday that the IRGC's intelligence organization in West Azarbaijan Province has been torturing these young people to 'confess' against each other and say their group was in contact with foreign intelligence services.
State media reported in November that intelligence bodies had arrested 25 members of Youth of Urumieh Neighborhoods and accused them of trying "to deceive young people and incite them [to riot]". The reports came along with group photos of two groups of blindfolded men and women holding signs with "Urumieh Neighborhoods' Youth Organization" printed on them.
A report by the official news agency IRNA on November 17 quoted "an informed source" as saying that the "principal members of the organization were in contact with [foreign] spying agencies" and attributed the arrests to the Revolutionary Guards (IRGC) intelligence organization of West Azarbaijan.
"They have been forced into incriminating each other during interrogations and as a result of duress including beatings and threats of rape," Follow Up Iran claimed. The activist group has also said those arrested did not know one another before getting arrested, despite IRGC's claim that they belonged to Javan-e Mahallat-e Urumieh.
Follow Up Iran activists says in their report that sixteen, including eight young men and eight young women, are currently being prosecuted in the case. The report names eight of the detainees, including two teenagers, and says they were released on bail and are awaiting trial by the Revolutionary Court of Urumieh. The youngest among them is a fifteen-year-old girl, the report says.
The group called Javan-e Mahallat-e Urumieh is still active on social media and has never reported the arrest of any of its members. The group last tweeted on January 19.
Anonymous youth groups often calling themselves "neighborhood youth" of various Iranian cities and town, sometimes more than one in each place, emerged on social media in mid-October.
The groups sprang up after Tehran Youth (Javanan-e Tehran) managed to mobilize several successful "neighborhood-centered" protests and thousands of protesters in several towns and cities at a time of serious internet disruptions only through their activity on Twitter, Instagram and Telegram.
Some of the neighborhood groups have since then formed larger coalition groups, namely the Voice of People Coalition (Etelaf-e Seda-ye Mardom) which supports the leadership of Iran's exiled Prince Reza Pahlavi and the United Youth of Iran (Etehad-e Javanan-e Mahallat-e Iran) which said it was a coalition of thirty different youth groups and published a manifesto in December. The Urumieh youth group does not appear to be in either coalition.
Torturing detainees to incriminate themselves and others according to a scenario fabricated by intelligence bodies has several precedents. The so-called "confessions" of the accused is usually used for propaganda and are aired by the state television.
In 2019, Mazyar Ebrahimi, a businessman, disclosed how he was tortured non-stop for forty days by the intelligence ministry into confessing to spying for Israel and assassinating Iranian nuclear scientists between 2010 and 2012.
Ebrahimi's confessions were broadcast by the state broadcaster (IRIB). He also said the judge who tried him and others on these bogus charges, Abolghasem Salavati, constantly threatened them with a death sentence to make them accept "to cooperate" with their interrogators.
In a rare incident, Ebrahimi and others were exonerated when the rival IRGC intelligence found discrepancies in the testimonies fabricated by the intelligence ministry.