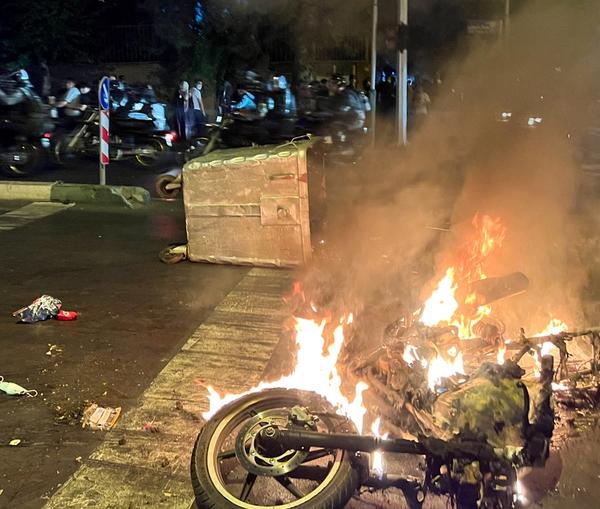 Underground Youth Group In Iran Emerging As Protest Leader
Young activists in Iran have formed a protest organizing group that seems to represent a new opposition force successfully issuing calls for demonstrations nationwide.
The group calling itself Tehran Youth (Javanan-e Tehran) mobilized thousands of protesters in several towns and cities on Saturday and Wednesday through social media at a time of serious internet disruptions.
In their latest statement, Tehran Youth have called on people in Tehran and other cities to gather after midday Saturday "in all places where mercenaries and repression forces are not present" to chant "Down with the Dictator".
Sources in Tehran say security forces are now continually present in all busy streets and squares to prevent people from convening to protest and do not let any pedestrian stop even for a short time. Footage of recent protests generally shows smaller, mobile groups that join together, chant, and separate again in a flash-mob style whenever they find a chance.
The mobility of protesters and their distribution in various neighborhoods, however, has now turned into a big problem for the security forces who are seen in some videos aimlessly running around to confront protesters and exhausting themselves even more after long hours of deployment.
Tehran Youth have stressed "neighborhood-centered presence" of protesters in their statement to minimize harm and casualty among protesters. "The best [Internet] anti-blockage tool now is [presence] on the streets," they said referring to the internet curfew that sometimes turns into total blackout.
Young protesters, all in black to make identification by police difficult, on a Tehran street in October
Observers in Tehran say the movement to overthrow the Islamic Republic, as protesters' slogans indicate, has yet not grown to its full potential and that currently it is the younger generation that is carrying both the burden of the protests and the brunt of the violence.
Security forces have violently cracked down on students in various universities and arrested hundreds. They have targeted the students both inside the universities and outside. Footage posted on social media Wednesday showed a female student outside Tehran University whose eye was seriously injured with a steel pellet directly aimed at her.
"They have managed to scare the students into silence in some universities in the past few days, but the anger is there like burning coals under ashes. It can resurface any minute," a student from Tehran's Amir-Kabir University told Iran International.
Authorities claim that the protesters are only a minority in the Iranian society and that most Iranians are supportive of the establishment. "It is true that the numbers on the streets is not really huge but dissent is overwhelming in magnitude. The momentum is growing by the day like an avalanche," a source in Tehran who asked not to be named said.
The Supreme National Security Council (SNSC) has dictated such strict censorship guidelines to the media that one would think nothing at all has been happening in the country if they looked at frontpages of newspapers.
Authorities are hoping that by internet and media censorship they can limit people's sources of information to state and and IRGC-linked media which accuse protesters of rioting and destruction of public property without any mention of the violence against them.
"The media crisis in the Islamic Republic has turned into a national security crisis the continuation of which will be costly to the system and the country," Elias Hazrati, managing director of the reformist Etemad newspaper warned the SNSC Secretary, Ali Shamkhani, in an open letter Wednesday. "Let domestic media report freely," he wrote.