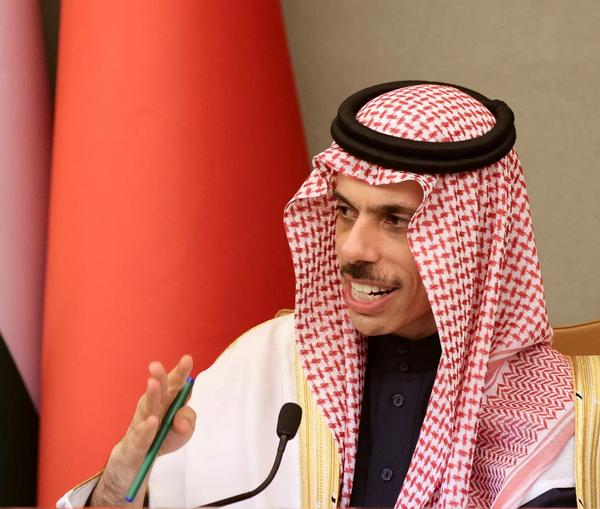 Saudi FM Says Riyadh Trying To Find Path To Dialogue With Iran
Saudi Foreign Minister Prince Faisal bin Farhan Al Saud said the kingdom was trying to find a path to dialogue with Iran as the best way to resolve differences.
He said a decision by Saudi Arabia and other Gulf states to focus on their economies and development was a "strong signal to Iran and others in the region that there is a pathway beyond traditional arguments and disputes towards joint prosperity".
Tensions spiked between Saudi Arabia and Iran after Tehran got involved in Syria's civil war in 2011 and began building a network of proxy forces in the region.
Riyadh and Tehran cut ties in 2016 but officials from the two countries have held five rounds of direct talks hosted by Iraq since last year without achieving any diplomatic breakthroughs.
Arab states around the Persian Gulf are concerned about Iran's nuclear and ballistic missile programs and network of regional proxies but want to contain tensions as they focus on economic priorities.
"This is complex question, but we will have to talk about how we find a pathway to ending the conflict," he said.
Prince Faisal said attention on the Middle East was also needed, citing Syria as well as regional concerns over "provocative policies" by Israel's new government headed by Benjamin Netanyahu in an alliance with ultra-nationalists.
Netanyahu has pledged to pursue formal Israeli ties with Riyadh to build on normalization pacts signed with the United Arab Emirates and Bahrain in 2020 under his leadership.
Saudi Arabia blessed the US-brokered pacts but stopped short of formally recognizing Israel in the absence of a resolution to Palestinian statehood goals.
Reporting by Reuters