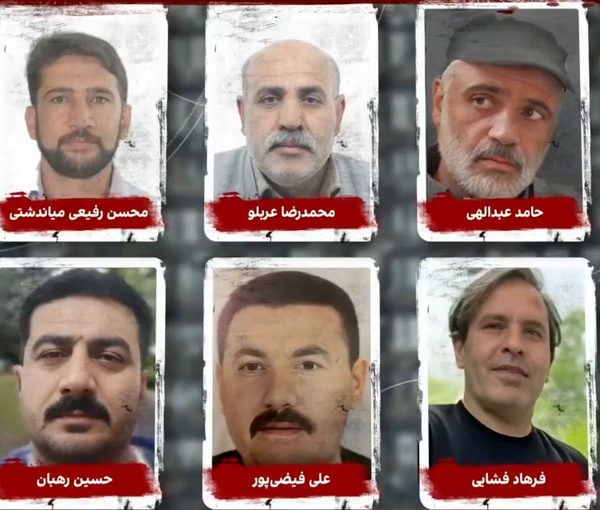 Exclusive: Hit Squad Of Foiled Terror Attack In Georgia Identified
Iran International has obtained information about perpetrators of a botched operation by the Revolutionary Guard to assassinate an Israeli citizen in Georgia in November.
According to the new information, five individuals were the main members of a hit squad from the Quds Force Unit 400 of the IRGC, who sought to kill Itsik Moshe, a prominent businessman and the chairman of Israel Georgia Chamber of Business. Hacker group Backdoor (3ackd0or) provided Iran International with documents about their identities, place of residence, etc.
The five agents were Hossein Rohban, Mohammad-Reza Arablou, Mohsen Rafiei Miandashti, Farhad Fashaee and Ali Feizipour.
Moshe is also the chairman of Israeli House, the organization concentrated on public diplomacy for Israel in Eastern Europe, tasked with communicating directly with citizens of other countries to inform and influence them so that they support the Israeli government's strategic objectives.
Unit 400 of the Quds Force -- a division primarily responsible for extraterritorial military and clandestine operations – planned assassination of some Israeli officials in several countries, and a Pakistani team affiliated with al-Qaeda was tasked with gathering information in the operation in the Georgian capital Tbilisi.
The operation was revealed when Georgian security forces noticed the suspicious activity of a member of the Pakistani team. The State Security Service of Georgia released a statement in mid-November saying that two Iranian-Georgian citizens -- Miandashti and Fashaee -- who were responsible for providing weapons for the assassination were arrested. They were cooperating with an arms smuggler in Turkey.
Georgia also said the one who ordered the murder – Rohban – was outside Georgia. According to data leaked by the 3ackd0or, he is residing in the northwestern city of Orumiyeh (Urmia). Arablou was also responsible for coordinating the team and is reportedly living in the city of Zanjan. 
The leader of the team – Rohban -- was under the direct command of Hamed Abdollahi, the head of the Unit 400 who is wanted internationally following the disclosure of an assassination plot targeting Adel al-Jubeir, the former ambassador of Saudi Arabia to the United States from 2007 to 2015. Abdollahi, who used to serve as the IRGC commander in Zahedan and also served as a deputy to slain Quds commander Qassem Soleimani, is also sanctioned by the US following the failed assassination.
Most of the members of the Quds Force Unit 400 of the IRGC were former comrades of Soleimani in the 41st Tharallah Division in Kerman, who later gathered under the title of Haj Qassem's guys. Soleimani – who was killed by a US air strike on January 3, 2020 -- was in charge of supporting and organizing militant proxy forces, including the Lebanese Hezbollah and Iraqi Shiite militia groups that were repeatedly attacking US forces in Iraq and elsewhere.
The news from Georgia came months after Israeli and Turkish intelligence agencies worked together to stop an Iranian plot to assassinate Israeli tourists in Istanbul. Jerusalem warned Israelis not to visit Turkey in June, and soon after, Turkey arrested eight members of an Iranian cell in hotel rooms in a popular tourist district, with weapons and ammunition.
In October 2021, Cyprus foiled an Iranian plotto attack Israelis, including billionaire Teddy Sagi, which Tehran denied. Cypriot authorities arrested a Russian-Azeri man who had a loaded pistol with a silencer in his rental car.
In recent years, there are numerous reports about assassinations of Iranian military commanders and sabotage attacks in Iranian industrial complexes, attributed to Israel, as well as numerous failed attempts to assassinate or kidnap Israeli officials in many countries. Iranian officials claim that they have dealt serious blows to Israel, but they cannot announce them due to confidentiality.