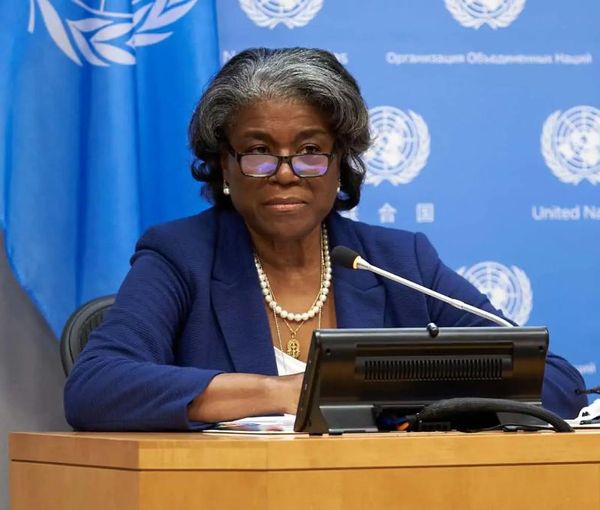 Iran To Sell Hundreds Of Ballistic Missiles To Russia: US Diplomat
US ambassador to the United Nations Linda Thomas Greenfield has warned about the continuation of arms cooperation between the Islamic Republic of Iran and Russia.
Thomas Greenfield emphasized Friday that that the United States warned the UN Security Council more recently that Iran and the DPRK planned to transfer prohibited materiel to Russia.
"Since August, Iran has transferred hundreds of UAVs to Russia, in violation of UN Security Council Resolution 2231. Russia has been using these Iranian UAVs to strike Ukraine's energy infrastructure, depriving millions of Ukrainian civilians of electricity, heat, and critical services in the middle of winter. People in Ukraine today are suffering and dying as a result of Iran's support," she stressed.
"We believe Iran is now considering the sale of hundreds of ballistic missiles to Russia and also in violation of Council resolutions. We urge Iran to reverse course and not to take these steps. And we urge everyone who supports peace to ask Iran to do the same," added Greenfield.
The American ambassador further asked the international community to urge Iran to stop military support for Russia.
Ukraine says Iran has delivered 1,700 drones to Russia, hundreds of which have been used to target civilian infrastructure, including the country's electricity system and residential areas.
Ukrainian President Volodymyr Zelensky announced in recent weeks that Russia has received more than 250 other drones from Iran.
Iran has denied supplying weapons to Russia for its war in Ukraine, but foreign minister Hossein Amir-Abdollahian after earlier denials acknowledged in early November that Tehran had supplied drones to Moscow "months before" the Ukraine war, leaving it vague if these were used in the war.