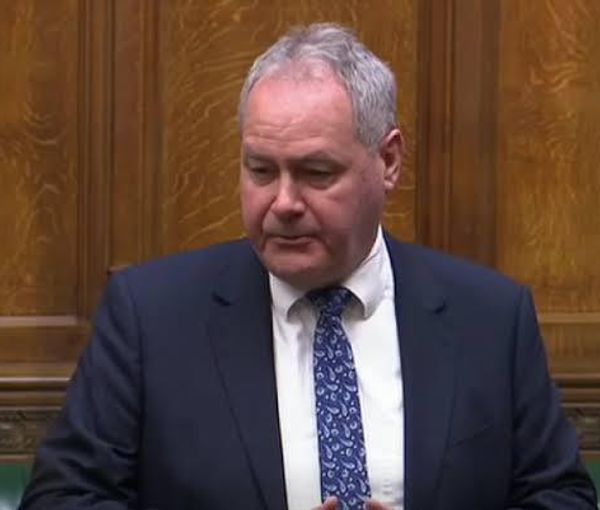 UK Lawmakers Pass Resolution Urging Gov't To Proscribe IRGC
Members of the UK House of Commons on Thursday unanimously voted for a motion that urges the UK gov't to proscribe Iran's IRGC as a terrorist organization.
While the vote is not binding, it indicates British lawmakers' increasing pressure on the government to respond to violence against protesters in Iran by security forces mainly controlled by the Revolutionary Guard.
So far, a combination of IRGC personnel, their Basij militia, intelligence agents and regular police commanded by top IRGC generals have killed around 500 civilians and maimed hundreds of people. Four protesters have also been executed after sham trials.
Opening the discussion, Bob Blackman, a member of the ruling Conservative Party, said the IRGC should be added to the list of proscribed terrorist organizations.
"I urge UK government to proscribe IRGC as terrorist organization and work with counterparts to ensure further sanctions on Iran without delay... Suppression of speech against Iran's regime mimics the rise of the Nazis. We must act before it reaches such level."
Blackman said that the UK should "refer the [Iranian] regime's appalling dossier of systematic violations of human rights and crimes against humanity to the United National Security Council for adoption of binding and deterrence measures."
The IRGC should be proscribed "in its entirety," Blackman added, echoing the words of then United States Secretary of State Mike Pompeo who announced the US listing of the IRGC as a 'foreign terrorist organization' as part of its 'maximum pressure' sanctions against Iran when the US in 2018 left the Iran nuclear agreement of 2015, the JCPOA (Joint Comprehensive Plan of Action).
'A bunch of clerical fascists'
John Cryer, a Labour MP, called the IRGC "a bunch of clerical fascists who rape, kill, maim their way around Iran and outside Iran's borders." Conservative Bob Stewart said that "if any of us were to make a speech like we've made this morning or this afternoon in Iran, we'd be dead meat very quickly."
Labour MP Fleur Anderson said the UK should offer visas to female Iranian protest leaders and those given death sentences. John McDonnell, close associate of former Labour leader Jeremy Corbyn, called for closing the Iranian embassy and expelling Iranian diplomats.
The push in Europe to list the IRGC as a terrorist organization goes beyond the UK. Many German and Austrian politicians are keen to pursue the issue with the European Union, which will probably discuss it in a meeting next week.
Foreign Office minister Leo Docherty told MPs the IRGC was "already sanctioned as an organization," as were some of its individual members, although it was not proscribed as a terrorist organization. Docherty said government consideration of the issue was "active" and refused to "pre-empt any formal announcement…"
A report to government from Jonathan Hall, a King's Counsel, highlighted some of the issues involved in proscribing part of the armed forces of a sovereign state, Independent Online reported Thursday. Hall warned given the state is conventionally considered to "enjoy a monopoly over the legitimate use of violence," this would "depart from consistent and decades-long UK policy."
'Upsetting the settled meaning of terrorism'
British legislation and implementation derives from the 2020 Terrorism Act, which defined terrorism as "serious violence against a person" or "serious damage to property" designed "to influence the government, or an international governmental organization or to intimidate the public" based "on a political, religious, racial or ideological cause."
While Hall's arguments rest on the difficulties of extending legislation based around non-state organization to state bodies, Amnesty International has long argued that the 'terrorism' definition is itself unworkable, and that its vagueness and breadth leave "scope for political bias in making a decision to bring a prosecution." The UK's current list of 78 proscribed terrorist organizations includes Hamas, Hezbollah, and the Kurdistan Workers Party (PKK). Listing, which is done extrajudicially by the interior minister (home secretary) makes membership, giving financial support, or displaying the group's logo or flag a criminal offense. The MEK was removed from the list in 2008.