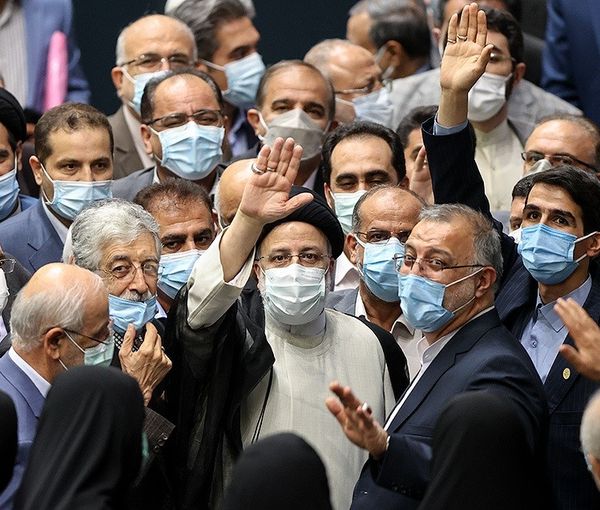 Regime Insiders Attack Raisi For Indecision, Inefficiency
Reports from Tehran indicate that regime insiders including conservatives in the government are fed up with the President Ebrahim Raisi's government amid crises.
Reformist newspaper Shargh wrote in a January 10 article that Expediency Council members have also become critical of the Raisi administration's inability to prepare the country's annual budget bill and the related 5-year development plan, as well as rising inflation and the devaluation of Iran's national currency.
Shargh further asked whether the conservatives are going to lose their patience in the face of the government's indecision and inaction while the country's worst economic crisis continues with an ever-increasing momentum.
At the same time, "poverty has been spreading" to large parts of the Iranian society while the government has not introduced any plan to support the low-income strata and prevent further shrinking of Iran's middle class, the daily wrote.
Conservative economist and a member of the Expediency Council Ahmad Tavakoli has recently warned the Raisi administration and Iran's conservative-dominated parliament: You may not be too far from the day when the poor pour into the streets and put an end to the current situation." He further warned: "Please do not do something that might lead to a revolt by the poor."
Conservative politician and economist Ahmad Tavakoli
Tavakoli also criticized members of Iran's parliament for approving or rejecting economic issues including the bill about capital gains tax without having read at least two pages about the matter.
Meanwhile, another member of the Expediency Council, Gholamreza Mesbahi Moghaddam, who is also a member of the right-wing Militant Clerics Association, said in an interview with Khabar Online: "The structural problem of Iran's economy is that we do not produce wealth. We simply distribute the resources. People see the situation in other countries…about better living standards."
Mesbahi added: "Iranians need to spend more money than they earn and the Iranian government's expenses are more than its revenues. As a result, both Iranian families and the Iranian government have to constantly borrow money to make ends meet."
Member of the Expediency Council, cleric Gholamreza Mesbahi Moghaddam
He said, "Unfortunately the Iranian government lacks a strategic vision and does not have the right people to pursue a strategy. Raisi used to say during the 2021 presidential election that he has a 7000-page economic plan on his desk. I asked him to show me the plan, but he did not have anything. I offered him some suggestions, but he insisted on his opposition to the FATF saying that it will give the United States more pretext for sanctioning Iran."
The Financial Action Task Force, an inter-state watchdog has blacklisted Iran's banking for lack of adherence to anti-terror financing rules and money laundering.
Mesbahi also criticized the government for not having a long-term plan and thus furthering its business on a day-to-day basis.
In yet another development, hardliner Students of Amir Kabir University in Tehran harshly criticized Raisi's justification for rising prices in Iran. They told him they expect him to have an effective hand to do things rather than a tongue to justify everything by words.
Hardliner cleric Naser Makarem Shirazi also criticized Raisi's economic policies. He said: "It is regrettable that the officials not only do not solve economic problems such as rial's steep fall, but they tend to totally ignore the problem."
Meanwhile, conservative commentator Naser Imani has said recently: "Government officials have still not realized the country's situation and therefore, they cannot offer any solution for the problems. Their best defense often is to say that there is nothing wrong with their performance and it is the enemy who creates all the problems." However, Imani shied away from saying that two of those who always attribute Iran's problems to foreigners' conspiracies are Supreme Leader Ali Khamenei and President Ebrahim Raisi.