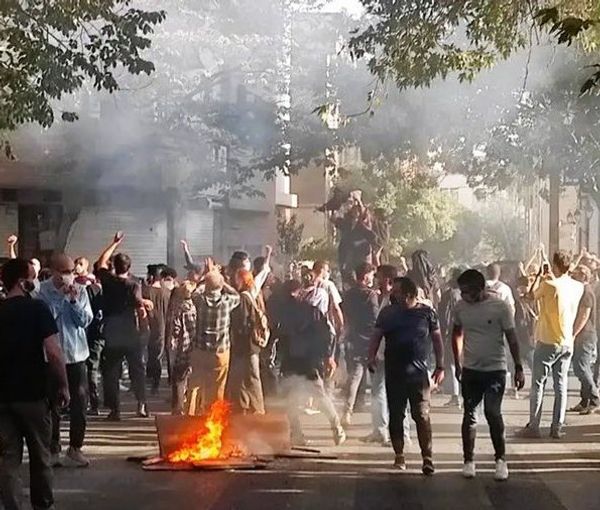 Iranian Regime Agents Threaten Dissident Expats In Europe
An audio file shared on social media has revealed that the regime threatens Iranians abroad for taking part in anti-government protests and expressing opposition.
In the audio file published by the VOA Farsi service on Thursday, a security agent of the Islamic Republic, who introduces himself as an agent of the intelligence ministry, threatens "Massi Kamri", an Iranian activist living in France, saying if she does not stop acting against the regime, they will imprison her parents and family members in Iran.
Apparently, she participated in rallies against the Islamic Republic's bloody crackdown on antigovernment protests that have engulfed Iran following the death in custody of 22-year-old Mahsa Amini. 
Using an insulting tone, the agent tells Kamri if she cares about her family and does not want them to be taken to the notorious Evin prison in Tehran she should not engage in anti-Islamic Republic activities.
The agent also says she must stop sharing Instagram stories and posts that encourage people in Iran to chant slogans and hold protests.
In another part of the recording, Kamri says her Instagram page is private and no one except her followers could see her posts, but the person from the intelligence ministry claims he has access to her page, saying "it's right now open in front of me!"
Kamri insists that she has not done anything wrong according to the laws of France, where she is a permanent resident, but the agent says what she is doing is against the Islamic Republic. She told the regime's agent that nowhere in the world do authorities hold accountable the family members of someone who commits a crime, but the agent replied this is Iran and they can do whatever they like. 
This is not the first time Iranian agents threaten people living abroad for expressing their opinions. The Daily Telegraph recently reported that the Islamic Republic uses mosques and political institutions in the United Kingdom as part of its "spying system" to target dissidents.
Canada's spy agency also launched an investigation into what it calls multiple "credible" death threats from Iran aimed at individuals in Canada.
In November, Israel's Mossad informed Britain's spy agency about an impending Iranian plot to carry out terrorist attacks against Iran International's journalists based in London. 
According to information obtained by Iran International, threats against its journalists came from the same team that sought to target Israel's former consul general in Istanbul, Yosef Levi Sfari, who was rescued by authorities and sent back to Israel.
Faced with nationwide antigovernment protests since mid-September, the Islamic Republic has blamed foreign-based Persian broadcasters such as BBC Persian and Iran International of "fomenting unrest", while all media in the country are under tight government control and present protesters as "rioters" and "terrorists". The Islamic Republic is notorious for tormenting the families of dissidents in every way it can think of, from abducting the bodies of the dead ones and burying them in undisclosed locations -- such as the case of late journalist Reza Haqiqatnejad -- to detaining and calling in family members for interrogations to warn them of talking to media about their loved ones. 
Iran's Intelligence Minister Esmail Khatib on November 9 said the Islamic Republic regards Iran International as "a terrorist organization," adding that its workers and anyone affiliated with the channel will be pursued by the Ministry of Intelligence.
Iran has a long record of targeting dissidents and independent journalists who found refuge in other countries. In the latest example of terror operations abroad, Iranian intelligence abducted dissident journalist Ruhollah Zam who was visiting Iraq in 2019 and took him back to Iran where he was executed in 2020.