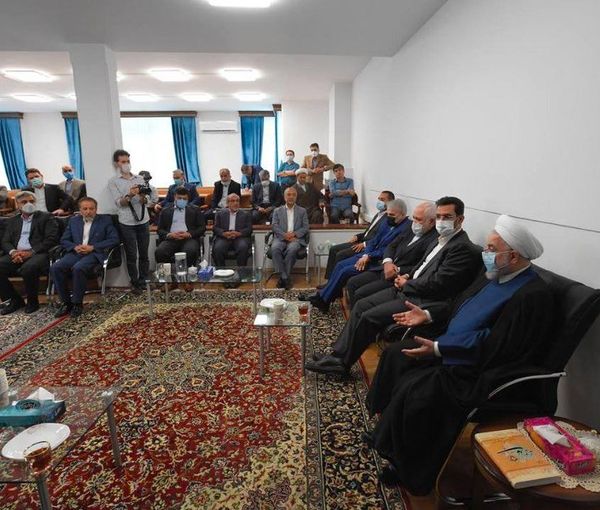 Iran's Ex-President Rouhani May Be Trying A Come Back
Former Iranian President Hassan Rouhani, who has been mostly silent after he left office in 2021, started to comment on domestic political affairs last week.
Some observers, including a commentary in the leading reformist newspaper Etemad asked whether Rouhani has started a gamble to ensure his political comeback by returning to newspaper headlines after several months. The daily also pointed out in the commentary entitled "Rouhani's rough path to a comeback," that his comments have triggered radical attacks by Iran's conservatives.
Entekhab News, a centrist news outlet close to Rouhani quoted him on December 28 as saying: "I have conveyed some suggestions to the Supreme Leader both in writing and over the phone." Meanwhile, Sara Massoumi, a senior journalist in the reformist daily Etemad on the same date quoted Rouhani as saying: "Some people think that interaction with other countries will lead to infiltration into the Iranian political system. This is not true. It is isolation that leads to infiltration." He added: "In my government we worked hard to keep the JCPOA alive regardless of many attacks on us. We saved the JCPOA by freezing it. The current government could have benefitted from the JCPOA if it wanted to."
According to Etemad, although Rouhani has been silent during the past 18 months except for sending occasional condolence messages, members of the government and other hardliners in Iran often blame him for the country's current problems. Others say that attacks on Rouhani are in fact conservatives' way of supporting Raisi who is often criticized for his government's weak performance and the deteriorating economic situation.
Rouhani with his senior officials in February 2021
During the past week, some Iranian politicians suggested that Rouhani might be willing to take part in the parliamentary elections in early 2024. Meanwhile Rouhani and other Iranian politicians have been under pressure by hardliners to support the government and the entire Iranian political system which has been under attack by protesters.
As part of those pressures, Raisi said earlier this week: "Many political figures and regime insiders failed to fulfil their responsibility during the protests." The conservatives reminded that Rouhani's silence is in contrast with his position during the 2019 protests when as president he called for identifying and punishing those who protested to a sudden hike in the price of gasoline.
However, Rouhani's meeting with his former cabinet ministers and aides on December 26 indicated that he is looking for a political comeback with an eye on the impact of the ongoing protests.
During the meeting he extensively talked about the role of women in Iran and their status in Islam. In the same meeting, he also spoke about the JCPOA and how Iran could have benefitted from it had the current government not opposed a deal. Both subjects were likely aimed at bringing Rouhani back to the headlines, and they did.
Nonetheless, although Rouhani tried to appease Khamenei in his remarks, hardliners launched an immediate attack on him saying that his remarks about women showed his liberal views against Islam. Iranian hardliners use the word "liberal" as an insult rather than a political label. Hard-line Mashregh News close to Iranian security forces even said that Rouhani's views were a deviation from the Islamic Republic's official rhetoric.
Farda News, another conservative outlet close to parliament speaker Mohammad Bagher Ghalibaf accused Rouhani of "distorting the truth" and "trying to portray the Raisi administration as a weak government only to conceal his own government's weakness."
Rouhani's possible response to these critics will show if he is really interested in a political comeback.