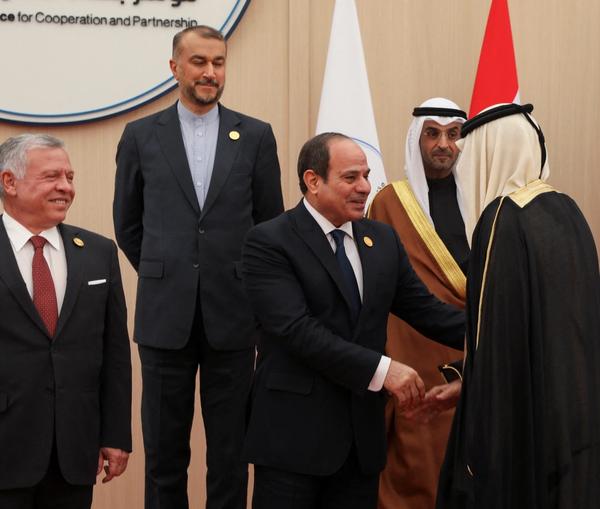 Iran, Saudi Arabia Attend Regional Summit, With Little Progress
Iran claimed it is ready for dialogue with regional states during a conference its arch foe Saudi Arabia attended in Jordan on Tuesday with few signs of progress.
Iraq and France jointly organized the conference, aimed at supporting stability in Iraq and the wider region where Tehran and Riyadh have backed opposite sides in proxy wars from Yemen to Syria and elsewhere.
Saudi Arabia and Iran severed ties in 2016 and the meeting offered potential for direct talks, but there was no word of any meeting between Iranian Foreign Minister Hossein Amir-Abdollahian and Saudi Foreign Minister Prince Faisal bin Farhan Al Saud.
"We are ready to cooperate with all countries in the region including countries south of the Persian Gulf," Amir-Abdollahian said. In his address, the Saudi minister pledged support for Baghdad but made no reference to relations with Iran.
As he addressed the conference in Jordan, Soleimani's successor Esmail Ghaani - speaking in Tehran - referred to Saudi Arabia as "a scum and not worth of being an enemy".
Iraq has hosted five meetings between Saudi and Iranian officials since last year, the last of which was in April. These contacts have not yielded any breakthroughs to ease tensions in Iraq and elsewhere.
Tensions between Iran and Saudi Arabia have ticked higher since the eruption of protests in Iran with the Revolutionary Guards telling Saudi Arabia to control its media and the Iranian intelligence minister warning Riyadh there was no guarantee of Tehran continuing its "strategic patience".
A closing communique called for regional cooperation but did not spell out specific measures.
With reporting by Reuters