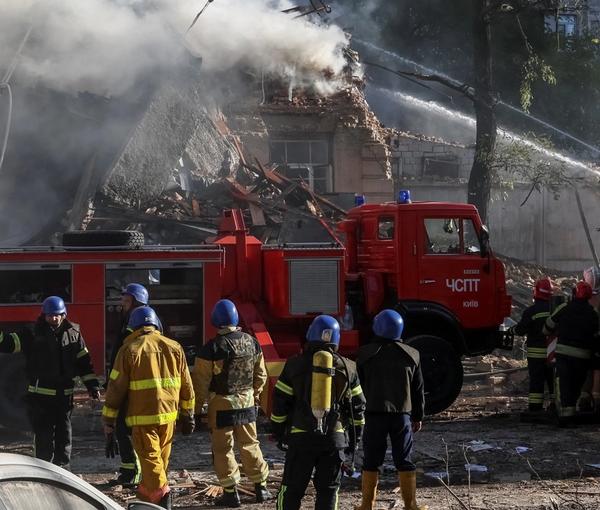 Russia Receives New Batch Of Iranian Drones – UKR Official
A Ukrainian senior intelligence official says Russia has received a new shipment of Iranian-made Shahed-136 kamikaze drones from the Islamic Republic of Iran.
According to Ukraine's defense intelligence (GUR) spokesman Andriy Yusov, the new shipment is smaller than the previous one sometime in the summer that is estimated to have included at least 400 UAVs.
Russia used the initial supply in October and November, but reports from Ukraine indicated that for 2-3 weeks no Iranian drones were deployed from mid-November, indicating a possible shortage.
"This is a new batch [of Shahed drones], we do not comment on its size, but we see that Shaheds were not used during yesterday's massive terrorist missile strikes. All other available weapons were used, and these were all missiles and no Shaheds. This is a new batch, but this one, compared to the initial mass use of Shahed, is obviously smaller," said Yusov on Sunday.
Iran's foreign minister Hossein Amir-Abdollahian once again denied Iran has supplied drones to Russia to be used against Ukraine, in a speech in Tehran on Monday, while previously he had acknowledged having provided drones to Moscow "before the Ukraine war began."
Ukrainian president Volodymyr Zelensky in October said that Russia has ordered 2,400 of the suicide drones from Iran. But Iran's production is slow, and it also needs to save enough of the UAVs for its own military.
Yusov also spoke of previous agreements reached between Russia and the Islamic Republic regarding the supply of ballistic missiles, saying, "As of today, we have not seen Iranian ballistic missiles in Russia for use against Ukraine, although such a possibility exists, and this information is being monitored. Also, certain efforts are being made to ensure that this scenario is not implemented. But there is such a threat."
Ukrainian security forces fire at drones over Kyiv on October 17, 2022
As reported by Ukrinform, overnight December 14, Russian armed forces attacked Ukraine with Iranian-made Shahed-136/131 kamikaze drones. All 13 UAVs were shot down by air defense forces.
The EU Council of Foreign Ministers adopted a resolution condemning Iran's action in supplying weapons to Russia for use in its war of aggression against Ukraine.
Earlier in December, Kyiv's air defense systems shot down 10 Iranian-made drones, while the United States is closer to sending its Patriot air defense system to Ukraine. Kyiv Mayor Vitali Klitschko said that air-defense systems shot down 10 Iranian-made Shahed drones and that there were explosions in the central Shevchenkivskyi district.
The Patriot system would help Ukraine defend against waves of Russian missile attacks that have pounded the country's energy infrastructure, but are not expected to be used against cheap drones, as each missile costs $4 million, while Iranian drones are worth just $20,000.
The United States and its European allies have also imposed rounds of sanctions against Iranian individuals and entities for their involvement in supplying drones to Russia. The latest instance of such sanctions was announced by the United Kingdom on Tuesday.
Foreign Secretary James Cleverly said UK sanctions were "taking the wheels off the Russian war machine." A press release referred to "information" released by the US December 9 - apparently a statement by White House Security spokesman John Kirby - showing Iran had become "one of Russia's top military backers."
The Pentagon says Russia's recent surge in missile strikes is partly designed to exhaust Ukraine's supplies of air defenses so it can dominate the skies above the country.
For that reason, the United States and its allies have been delivering more air defenses to Kyiv, everything from Soviet-era systems to more modern, Western ones. Washington has provided NASAMS air defense systems that the Pentagon says have flawlessly intercepted Russian missiles in Ukraine.