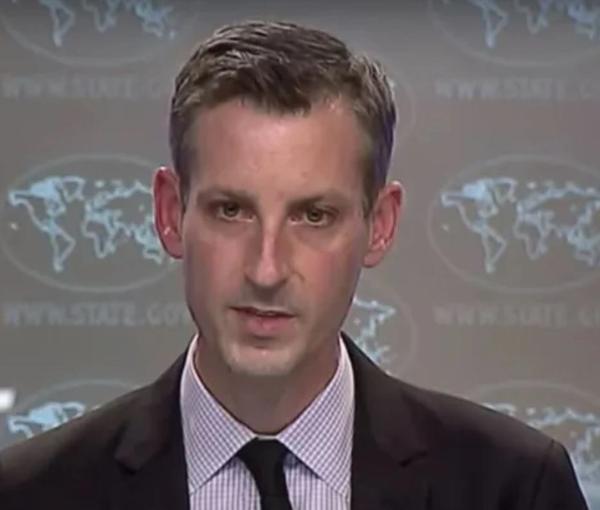 US Has 'No Information To Share' Over Iran Missiles For Russia
Two United States spokesmen said Wednesday that Washington had no evidence Iran had transferred missiles to Russia for use in Ukraine.
Comments from White House security spokesman John Kirby and State Department spokesman Ned Price came after Associated Press reported Moscow was "looking to Iran once again to resupply the Russian military with drones and surface-to-surface missiles."
AP cited "two officials familiar with the matter." The news agency also quoted a "UN diplomat" who claimed Iran had "plans to sell Russia hundreds of missiles and drones in violations of the 2015 [UN] Security Council resolution that endorsed the nuclear deal between Tehran and six world powers."
Price spoke Wednesday of the US "voicing concerns" that "Russia could look to Iran for ballistic missile technology" but said Washington had no "information to share at this point regarding current deliveries of ballistic missiles."
Kirby said that with Russia's "defense industrial base…being taxed…We know they're having trouble keeping up with that pace…[and] having trouble replenishing specifically precision guided munitions."
However, Price reiterated US concerns over the close military cooperation between Moscow and Tehran. "We've voiced our concerns that Russia could look to Iran for ballistic missile technology. We've voiced our concerns that cooperation between Iran and Russia could extend to other realms – sharing knowhow, expertise, I hesitate to say best practices but perhaps worst practices when it comes to the suppression of peaceful protesters."
Iran support cannot 'tip the balance'
Price said it was not the US assessment that Iranian military support could "tip the balance" in the Ukraine war, and referred back to the first US claims, made July, that Iran was planning to send "dozens" of drones, or UAVs (unmanned aerial vehicles). Tehran said early November these had been supplied before the current phase of the Ukraine conflict, which began February.
"I'm not in a position to go beyond that," Price said, "but Iran has indeed provided at least dozens and perhaps much more of these Iranian drones to Russia for use inside of Ukraine. The Ukrainians, using their own capabilities but also using the air defense capabilities that the United States and many of our partners have provided, have in fact been able to…neutralize many of these UAVs."
Price suggested that Iran should use revenue, which has been depleted by four years of 'maximum pressure,' to prioritize "the needs of its own people" rather than make "important contributions to Russia's war effort." Iranian drones had helped Moscow's attempt to "weaponize winter," Price said, "to turn off the lights, to turn off the water, to attempt to freeze Ukraine and Ukrainians into submission."
Meanwhile reports this week said the United Nations is also investigating Iran's delivery of drones and possibly other weapons to Russia to see if they constitute any violations. Reuters quoted Guterres as saying that "any findings will be reported to the Security Council, as appropriate, in due course."