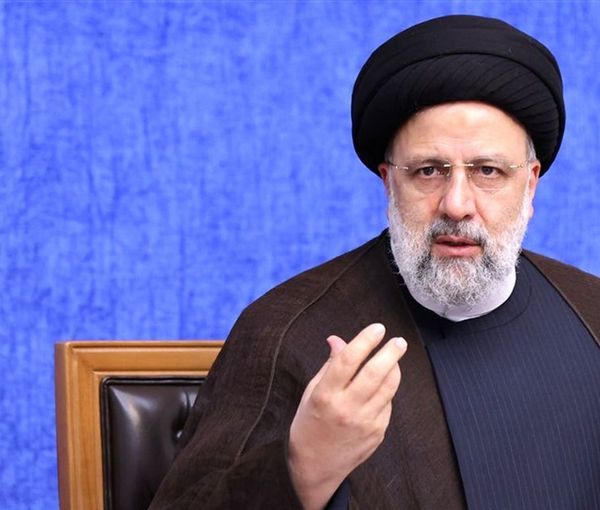 Iran's Raisi Delivers University Speech To Highly Vetted Audience
President Ebrahim Raisi Wednesday delivered a traditional Student Day speech at Tehran University to an audience highly vetted to keep protesting students out.
Students have reported on social media that university security and government security forces vigilantly vetted students before allowing them to attend the speech which uncharacteristically was not broadcast live by state media. They claim members of the paramilitary Basij were brought in from other universities and elsewhere to fill the event hall with supporters.
At the same time, students in a dozen universities held protest rallies amid pressures by security forces and Basij vigilantes.
Surrounded by bodyguards and security forces, Raisi also walked through the campus to give a message of "normality" to the event. In his speech and in response to questions from the constantly cheering vetted audience, Raisi praised his own government's "achievements", made promises of economic improvement, accused protesters of "enmity with the country", and claimed the opposition wanted to wage a civil war in Iran, like in Syria.
In the past three months, over 200 Tehran University students were arrested and 20 are still in detention. Some students have been sentenced to prison terms, others have been put on a list of non-grata students or have been banned from attending classes and using dormitories. According to students, the university released a new list of non-grata students ahead of Raisi's visit.
"One had to sign up and provide a lot of information beforehand [to get the entrance permit], apparently some were denied, for unspecified reasons, even after signing up in advance," a tweet said.
Another tweet said someone from among the vetted audience had protested to Raisi for not giving a high position to the ultra-hardliner former nuclear negotiator Saeed Jalil. "As if what protesting students want is [a position for another regime loyalist]", the tweet said.
Raisi's speech on Wednesday was preceded by a noisy appearance at Tehran's Sharif University Tuesday where students, including a female student who had defiantly taken her hijab off, grilled the capital's hardliner mayor Alireza Zakani about corruption, the Islamic Republic's support for the Taliban, backing the Lebanese Hezbollah and other controversial issues.
Sharif students booed the mayor when he blamed foreign countries for fomenting protests in Iran, staged a protest on the campus, and saw him off with chants of "Death to the Dictator", "Death to Khamenei", and "Rascal".
Raisi said he had been advised not to attend Student Day events at universities, "or at least Tehran University", presumably due to the current climate in the country, but had nevertheless decided to deliver his speech there. Apparently, he made his decision after vetting those in attendance.
Presidents' Student Day speeches at Tehran University, the country's oldest university, and how they are received by students, has considerable significance in Iran's political scene.
On the first anniversary of his election in 1997, reformist President Mohammad Khatami delivered a speech at Tehran University to highly enthusiastic students during which he warned about hardliners' use of religion to restrict citizens' freedoms. It is religion that will eventually be crushed if it is pitched against freedom, he said.
In December 1999, however, he had a difficult time with angry students whose campus had been attacked and ransacked by vigilantes and security forces loyal to the Supreme Leader Ali Khamenei, who arrested scores and killed several students in July of the same year.
In a Student Day message Monday, Khatami from his retirement praised the "Women, Life, Freedom", the trademark slogan of the current protests, expressed sorrow for the "shed bloods", warned that freedom should not be trampled in the name of establishing security, and criticized the arrest of students and pressure on their teachers.
His successor, hardliner Mahmoud Ahmadinejad, never made an appearance at Tehran University for Student Day speeches. Moderate Hassan Rouhani also had a hard time at Tehran University in 2016 when Basij militia students assailed him even told him not to think of a second term of presidency.