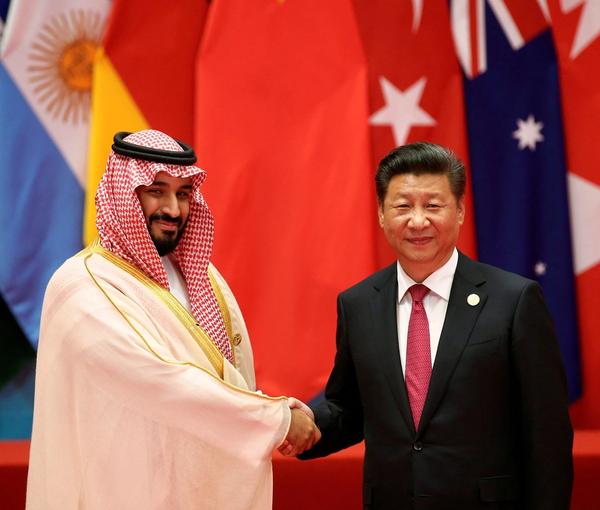 Iran, US Look On As China's President Xi Heads For Saudi Arabia
President Xi Jinping's visit to Saudi Arabia, beginning Wednesday, marks China's rising influence in the Middle East and the wider world.
Saudi official news agency SPA is calling Riyadh-Beijing relations a "strategic partnership" encompassing both rising trade and regional security, contrasting with United States officials portraying China as a threatening axis alongside Russia and bemoaning Saudi-Russian cooperation in agreeing oil production targets through Opec+.
Foreign Minister Wang Yi in October said Saudi Arabia was a "priority" for China. While this is due partly to supplying of 1.77 million barrels of Saudi oil a day (bpd) reaching Beijing in the first ten months of 2022 (18 percent of China's total crude purchases), overall bilateral trade reached $87 billion in 2021 and China is keen to extend infrastructure investment in line with its 149-country Belt and Road Initiative (BRI).
Saudi Arabia's plans to diversify away from oil and develop the $500-billion NEOM city in the north west are widely expected to offer significant opportunities for Chinese companies, who are already active in refining and petrochemicals.
Deeping ties with Saudi Arabia has not stopped Beijing continuing as Iran's main oil buyer, taking between 500,000 and 1 million bpd this year, despite the threat of punitive action by Washington under the 'maximum pressure' Iran sanctions introduced in 2018. Both China and Saudi Arabia are uncomfortable by recent US assertions that its foreign policy is based on 'human rights.'
China has a 25-year cooperation agreement with Iran, reached in 2021, but last month signed a 27-year liquid natural gas (LNG) supply deal with Qatar, which shares with Iran the world's largest gas-field, the Qatari part known as North Dome and the Iranian part South Pars. Iran has struggled under US 'maximum pressure' to develop LNG facilities – the form of gas most suitable for export. French major Total, an LNG specialist, reluctantly pulled out 2018 from a contract to develop phase 11 of South Pars.
'Leveraging rivalry'
Saudi Arabia, like China, seeks a transactional foreign policy. The Chinese are this week reportedly ready for $30 billion in arms contracts with Riyadh, reflecting Saudi Arabia's position as the third largest defense spender in the world after the US and China. Riyadh bought 23 percent of all US weapons sold globally 2017-21, according to the Stockholm International Peace Research Institute.
Xi's visit will also include an inaugural China-Arab Summit, which is expected to include leaders from the countries of the Gulf Cooperation Council and the wider Arab world, including Iraq.
Iran and Saudi Arabia despite a few rounds of exploratory talks still do not have diplomatic relation severed in early 2016. Tehran continues to label Riyadh as an enemy and periodically makes threats against the Sunni power, which considers Shia Iran a threat.
While some Persian Gulf observers continue to insist that nothing has diminished US sway in the region, John Calabrese of the Washington-based Middle East Institute in a briefing published Monday wrote that "Saudi Arabia and its Gulf Arab neighbors …situated both literally and figurately at the crossroads of intensifying global rivalry between US and China…seek to leverage [that rivalry] to their benefit."