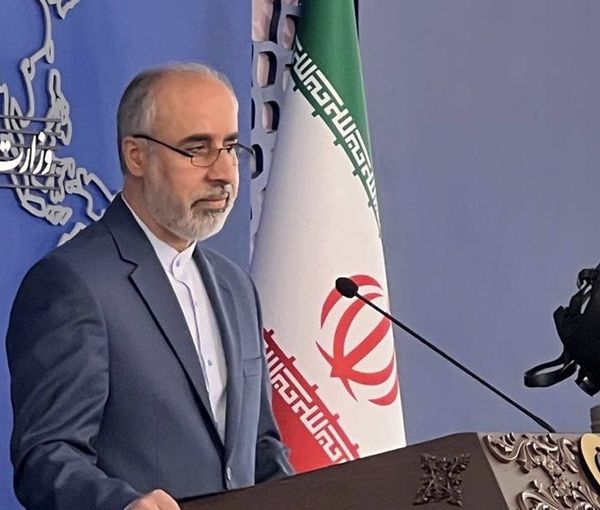 Iran's Foreign Ministry Slams Western Criticism Over Human Rights
Iran's foreign ministry reiterated Monday that ongoing protests in the country are an internal issue and others should not use the situation for political ends.
Ministry spokesman Nasser Kanaani in his weekly briefing on Monday lashed out at the United States and other Western countries for proposing to expel Iran from the UN Commission on the Status of Women.
US Vice President Kamala Harris said in early November that Washington will try to remove Iran from the 45-member CSW over the government's denial of women's rights and its brutal crackdown on protests. Some European countries have joined the effort as part of their reaction to Iran's mistreatment of women.
The Islamic Republic is just starting a four-year term on the commission, which meets annually every March and aims to promote gender equality and the empowerment of women.
Kanaani attributed all such attempts, including a UN Human Rights Council resolution passed last month calling for an investigation into Tehran's violations during recent protests, as politically motivated actions by the West.
Iranian officials have been linking criticism of their human rights record to the stalled nuclear negotiations, trying to argue that any human rights censure is simply an attempt to put pressure on Tehran.
However, the unrest since mid-September and the deadly use of force against civilians has pushed the US, its European allies and Canada to unprecedented vocal criticism and limited new sanctions on the Islamic Republic.
The fact that protests started following the brutal killing of a 22-year-old woman arrested by the notorious 'morality police', and the leading role of young women in the ensuing protests, galvanized support not only in the West but also in other countries such as Turkey.
International criticism further weakens the clerical regime's status inside the country because it comes as yet another sign of its isolation that has hurt the economy and impoverished tens of millions of its citizens.
This is why Kanaani on Monday tried to argue that criticism of Islamic Republic's human rights record has not weakened its foreign relations. He claimed that Iranian foreign ministry and other officials are visiting different countries and receiving the appropriate reception.
He told reporters, "You follow news events and developments and are aware of various diplomatic trips of foreign ministry officials at different levels," and the contacts of various typed with foreign governments.
In particular, he mentioned the recent regional travels by deputy foreign minister and nuclear negotiator Ali Bagheri-Kani to Russia, Qatar and India as a sign that the regime is not internationally isolated.
Kanaani also defended Iran's bilateral relations with China, that has come under the spotlight of critics after Beijing signed a $60-billion gas deal with Qatar, while Iran's production is decreasing due to lack of investments and technology.
Both countries share the same underwater gas reserves in the Persian Gulf, where Qatar has been expanding production in cooperation with Western oil giants, while Iran has lagged suffering from isolation.
"Islamic Republic's ties with China constitute a relationship between that is growing," he said, but admitted that US sanctions do pose limits om Tehran's ability to broaden interactions with other countries.