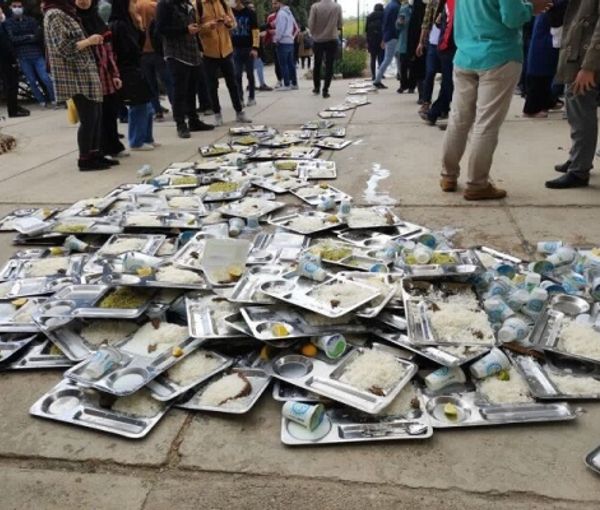 Hundreds Of Food Poisonings In Iran's Universities Raise Alarm
Food poisoning affecting hundreds of Iranian university students has alarmed many who claim canteen food was deliberately contaminated to keep them out of protests.
In the past couple of days "a large number of students" at Arak Industrial University and Kharazmi University in Karaj came down with symptoms of food poisoning including diarrhea, body aches, and vomiting, the Telegram channel of a national student union said Thursday.
There were food poisoning breakouts recently at two other universities, Al-Zahra University in Tehran and Isfahan University of Technology both believed to have originated from canteens.
Calling the incidents another case of "serial food poisoning", the channel said, authorities of Arak University attribute the illness, which has sent many to hospital since Wednesday, to some sort of virus but given a similar incident at Isfahan university of technology last week where many students got seriously ill after eating canteen food makes authorities' explanation implausible.
Students in Iran's state universities, particularly those who live in dormitories, often eat at the canteen where food is sold at subsidized prices. Outbreaks outside the universities have not been reported.
Some social media users have claimed that students in these universities are being deliberately poisoned by the authorities because of their very active role in the protest movement. The purpose they say is to keep them away from the protests planned on the occasion of Student Day on Monday. 
Students of Isfahan University staged a protest following the incident and demanded the resignation of the university officials. "We don't want rotten food, We don't want murderous authorities!", they chanted.
Health officials of Esfahan Province last week attributed the mass poisoning of to Shigella Sonnei, a bacteria that causes an infection called shigellosis with symptoms including diarrhea (sometimes bloody), fever, and stomach cramps a day or two after infection. The outbreak reportedly affected over three hundred students at the university.
The foodborne Shigella bacteria can be found in foods such as salads, meats and dairy.
The student union said Thursday so many students of Kharazmi University in Karaj had taken ill that the campus health center ran out of intravenous injection fluids for dehydration treatment and there were no beds to accommodate all patients. "The university pharmacy is closed, and female students are not allowed at this time [late evening] to leave their dormitories to seek medical care," the student social media channel reported.
The same source said Friday students at Al-Zahra University in Tehran where a similar incident happened on November 24 were threatened by university officials not to tell anyone their illness was caused by canteen food. "The physician of the university clinic insisted that students had been infected by a foodborne virus they ate outside the university," the channel quoted students as saying.