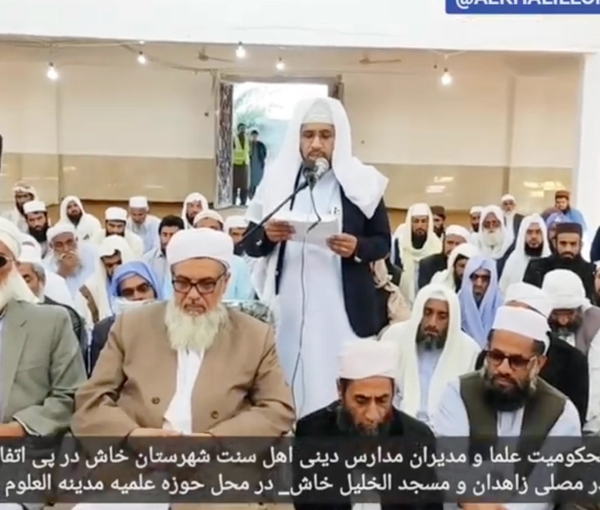 Iran's Sunni Clerics Decry Repression, Renew Support For Abdolhamid
A group of Sunni religious leaders in several Baluch cities across Sistan-Baluchestan province called on the Islamic Republic to stop its repression machinery used against protesters. 
In a joint video statement released on Monday, Friday prayer Imams and religious scholars from Khash, Taftan, Mijaveh and their neighboring towns decried the regime's appalling attacks against the people of Kurdish majority cities, the killings on September 30 dubbed as 'Bloody Friday' in Zahedan, and a brutal crackdown of Khash residents on November 4, among others. 
Protesting Islamic Republic's violations of human rights and dignity, they said religious leaders, elders and intellectuals in the province with a unified voice condemn government's violent reaction to protests across the country and show their "national solidarity."
The clerics said the attacks against the people at the Grand Makki Mosque -- the largest Sunni mosque in Iran located in the center of Zahedan – and Al-Khalil Mosque in Khash, where security forces arrested many people, and similar incidents across the province are aimed at fomenting fear among the people to dissuade them from attending prayers at mosques. They denounced the strategy by the Islami Republic as "Mosquephobia," apparently because the mosques are places where Sunni people gather to listen to their community leaders criticize the regime. 
The signatories of the statement also called for "the release of all political prisoners in Iran, who were arrested during the recent protests." Noting that peaceful protest is the people's right, they also urged the authorities to address issues regarding women's rights. "The voices of the Iranian people should be heard," they added. 
Emphasizing that the relentless ethnic and religious discrimination that has persisted over four decades of the Islamic Republic, the Sunni clerics expressed support for "the wise positions" of Mowlavi Abdolhamid as the serious and legitimate demands of the people. 
Molavi Abdolhamid among supporters before the current protests began
Molavi Abdolhamid, officially known as Sheikh Abdolhamdid Esmailzehi, is the most prominent religious leader of Iran's largely Sunni Baluch population living in the province. Abdolhamid's popularity is largely because of his willingness to challenge the absolute authority of Supreme Leader Ali Khamenei. Earlier in November, the outspoken Sunni Imam said women, ethnic and religious groups, and minorities have faced discrimination after the establishment of the Islamic Republic in 1979. He was also brave enough to blame Khamenei for the attack on protesters in his hometown, Zahedan, known as the Bloody Friday. It took place September 30, when security forces killed about 100 people, and injured hundreds. Earlier in the month, he called for an internationally monitored referendum, saying by killing and suppression the government cannot push back a nation. 
The statement by the Sunni clergymen came a day after an audio file was leaked by the hacktivist group Black Reward, revealing the Islamic Republic's plan to tarnish Abdolhamid's reputation. The audio tape from a meeting between a Revolutionary Guard general and a group of media managers or representatives from outfits affiliated with the IRGC, revealed that Khamenei demanded Mowlavi Abdolhamid be warned over his comments. Qasem Qoreyshi, the deputy commander of IRGC's paramilitary Basij forces, also said in the meeting that "We made a mistake about Abdolhamid. We first eliminated tribal leaders in the region to give more credit to Abdolhamid. However, he didn't carry much weight [in the past]."
In a similar joint video statement released earlier in the month, Sunni religious leaders and Friday prayer Imams in Iran's Kordestan province also called for a referendum under the supervision of international bodies. The Sunni clerics of Sanandaj and Dehgolan called for a plebiscite with the presence of religious and national leaders, as well as neutral international observers to "get out of the current situation."