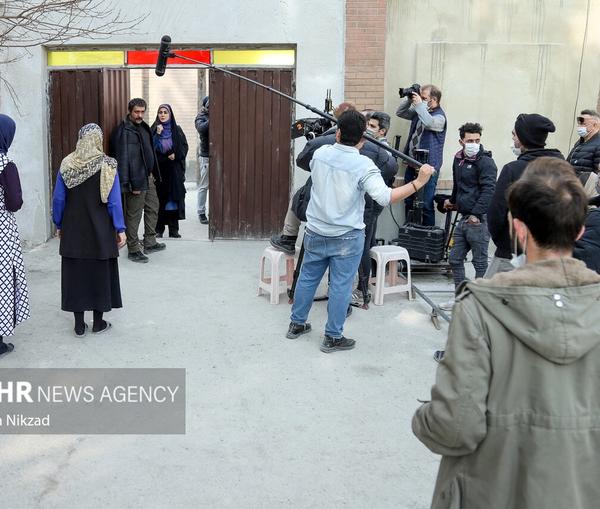 Filmmakers In Iran Start Shooting Without Hijab After Protests
Unconfirmed reports about Iranian filmmakers shooting movies and TV series with actresses without hijab have led to controversy in the country.
The story was first reported by movie director Vahid Vakilifar and Mohammad Reza Shafiei, a producer linked to the Islamic Republic's inner circles, who criticized the filmmakers, saying that "the enemy's hybrid warfare" has clouded their understanding and judgement of the current developments. 
According to these reports, filmmakers are shooting the same scenes both with hijab and without, leaving the impression that they think the Islamic Republic's mandatory dress code may be relaxed in future.
Later on, people on social media said that not only the movies are being filmed both with and without hijab, some series for home streaming services are also being shot both ways.
An official with the Islamic Republic's Cinema Organization, a body that works under the Ministry of Culture and Islamic Guidance, denied the reports on November 23, and threatened if the news is true, the production of the films will be stopped at any stage. Bahman Habashi warned of "irreparable consequences for the creators." He also called on investors, producers and directors to be careful about the consequences of any violation of the country's official laws on their reputation, credit and capital. 
It is not yet clear who are the filmmakers who are purportedly making such movies or how they are funded or whether the movies are being produced for screening inside the country. 
Some scenes from Kianoush Ayari's movie "Couch"
Kianoush Ayari's movie "Couch," in which the actresses do not have headscarves, but instead wear wigs, is still banned, or another movie "The Killer and the Savage" by Hamid Nematollah, in which the main character is a woman with a shaved head has not given permission for screening.
Although producing movies or shows in two version seems costly and arduous, there are some very famous examples for it, such as The Message, a 1976 epic flick by Syrian-American Moustapha Akkad that chronicles the life of Islam's Prophet Muhammad. Having consulted with Islamic clerics in a thorough attempt to be respectful towards Islam, Akkad simultaneously filmed two versions of the drama - one with an international cast in English and one an Arabic version with an Arab cast.
Iranian actress Leila Hatami in Hamid Nematollah's movie "The Killer and the Savage"
However, there are some people on social media who believe these rumors were created by regime insiders to justify the crackdown on filmmakers. This may be true because there are a few government-backed companies which want to control all film and TV series production and distribution. They have an interest in banning films or arresting independent filmmakers. 
In recent weeks, a large number of actresses and female filmmakers as well as sports celebrities have posted photos of themselves without the Islamic Republic's mandatory hijab as a show of solidarity with antigovernment protests, ignited by the death of 22-year-old woman Mahsa Amini in custody of the country's hijab – or the so-called morality – police. 
Such acts of defiance by actresses have become extremely troubling for the Islamic Republic's state broadcaster that has to remove them from TV series and movies they had appeared in or stop airing the shows altogether. 
The regime has also arrested several of the celebrities who have unveiled in public and has threatened many with bans on their works and leaving the country. However, such measures seem futile as the list of people who are getting banned are increasing day by day. Even if the production of movies with a veiled and unveiled cast is only a rumor, it shows that many people are imagining the country's cinematic landscape free of the Islamic Republic.