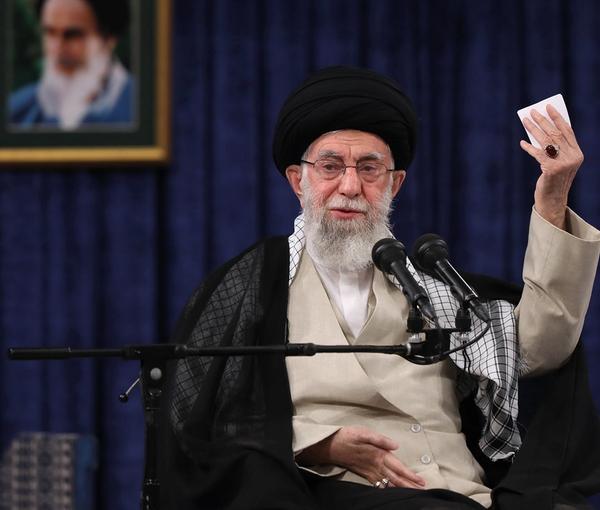 Iran's Khamenei Tries To Boost Confidence Among Loyal Forces
In a speech to loyal Basij forces Saturday, Supreme Leader Ali Khamenei tried to reinforce his ideology among followers amid popular protests threatening his rule.
Khamenei praised the Basij for their role in suppressing the protests, that he called "riots", as a paramilitary force under the command of the Revolutionary Guard.
The Basij have been at the forefront of confronting protesters in the streets and using violence against unarmed civilians, including children and women. They have also used various types of guns that have killed and maimed hundreds of people.
"They have sacrificed their lives to protect people from rioters," Khamenei said in his televised speech, while an Iranian human rights monitor, HRANA said Saturday that so far 448 protesters have been killed, including 63 children and an estimated 18, 170 people arrested.
But an interesting part of Khamenei's speech was his reference to the role the Islamic Republic plays in the region. He openly admitted that Tehran was successful in building a strong presence in Iraq, Syria and Lebanon, but he claimed, "we absolutely did not enter North Africa."
The 83-year-old clerical ruler repeated a favorite propaganda line, proclaiming that the Islamic Revolution "transformed the hearts of neighboring nations."
The Shiite regime in Iran loves to be seen as leading Muslims everywhere, but in fact most Sunnis, who are the majority in the Muslim world, see Shiites at best as a particular Muslim sect, while some even regard them as heretics. Except Shiites in the region, few Sunnis follow the Islamic Republic's lead, and even most Shiites who assist Tehran's policies receive large amounts of monetary support for their loyalty.
Khamenei also claimed that the United States decided in 2006 "to paralyze six countries that constitute the strategic depth" of the Islamic Republic in order to contain its power. He named Iraq, Syria, Lebanon, Libya, Sudan and Somalia, although Libya is in North Africa, contradicting his earlier remark of never having entered the region.
Iran's ruler also criticized those who say that the government must reach an agreement with the United States to be able to solve its problems. He maintained that "Negotiations will not help our problem with America. Only one thing will solve our problem with America: Paying ransom on permanent basis."
Khamenei regularly espouses an anti-US and anti-West ideology and regards a normal foreign policy and cordial relations with the West as capitulation. In fact, in his speech he called flexibility in dealing with the United States his "red line".
"America wants the Iranian nation to cross all red lines," he said.
Khamenei also indirectly alluded to the defiance of the new generation that has been the force behind current protests and told the Basij that there is no such thing as a generational gap and their religious philosophy remains vibrant as generations change.
In an obvious move to give confidence to his loyal forces he told them "Recognize your power, get to know your enemies and discover the weak points of the enemy, who is trying to show he is strong."
The Basij forces are faced with thousands of Generation Z young people who want social and political freedoms and do not believe in the religious and clerical order. These forces have to face protesters almost on daily basis and several have been killed or humiliated in the streets.