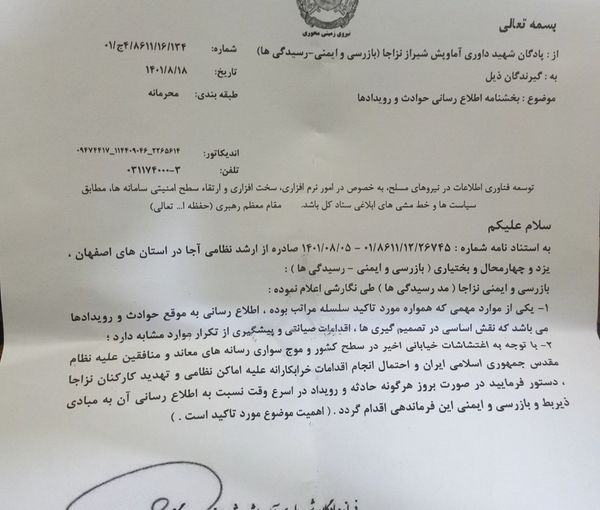 Exclusive: Document Shows Iran's Army Worries About Loyalty Of Troops
A new document received by Iran International shows that Iranian Army staff and their families have been supporting the popular antigovernment protests since September.
In a letter issued by a high-ranking army commander, he demanded daily reports on the arrest of army personnel and their families during protests, as well as paying attention to "subversive actions" against military facilities.
Hossein Safaralizadeh, commander of an army base in the southern city of Shiraz, has also mentioned that the army's inspectorate has also warned other commanders in three provinces of Esfahan, Yazd and Charmahal-Bakhtiari to follow up on such cases on daily basis.
This letter may suggest that the number of army personnel who are showing sympathy toward the protest movement, or family members participating in protests is on the rise and top military officials are concerned about it.
"The presence of army personnel and their families in riots, their arrest by the security, writing anti-government slogans on the walls of the barracks, and the amount of possible damage to the barracks and army housing units must be reported daily… through text, phone, or reports," reads the letter.
Iran's traditional Army, as distinct from the Revolutionary Guard, is widely criticized for not acting against the brutality of Basij militiamen, IRGC forces, and police who are ruthlessly killing innocent people during the uprising.
Analysts believe that, in the past years, the Islamic Republic has provided key positions of the army to the members of the Revolutionary Guard to eliminate the possibility of forming an opposition within the army.