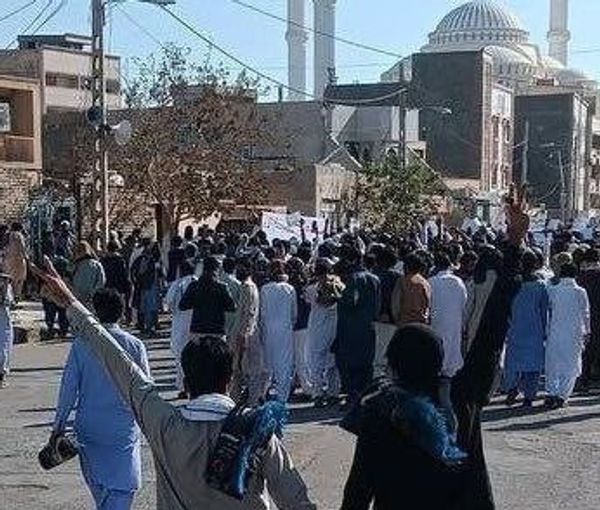 Sunnis Protest In Iran As Leader Lambasts Khamenei
Security forces have again cracked down on protesters who took to the streets and chanted against the Supreme Leader and the IRGC in southeastern Iran on Friday.
Videos posted on social media show thousands marching in the streets of Sistan and Baluchistan province capital Zahedan and other predominantly Sunni Baluchi population centers of Khash, Iranshahr (Pahreh or Bahreh), Rask, the border town of Pishin, strategic port city of Chabahar, and Saravan.
The leader of the Baluch people Molavi Abdolhamid also in his Friday sermon harshly criticized Supreme Leader Ali Khamenei's rule.
In videos posted on social media from Zahedan, Khash, Rask, Saravan,and Iranshahr gunshots are heard but no casualties have been reported yet, except in Iranshahr where several have reportedly been wounded.
Protesters in Zahedan and other cities took to the streets after Friday prayers chanting "Down with the Dictator," "Death to Khamenei", and "I'll kill those who killed my brother,". Videos also show people chanting slogans against the IRGC and its militia, the Basij as well as "From Zahedan to Tehran, I will give my life for Iran".
Protesters also carried posters of Khodanour Lajoie, a young man shot to death on October 1. A photo of Lajoei chained to a lamppost by the police several months ago has turned into a symbol of government's injustice in impoverished Sistan and Baluchestan.
In his sermon at Maki Mosque in Zahedan this week, popular Sunni religious leader Abdolhamid, officially known as Molavi Shaikh Abdolhamdid Esmailzehi, once again blasted the use of lethal force against protesters in Baluchestan and elsewhere in Iran.
"A government with which people are dissatisfied is no good and has to be toppled," he said and demanded the release of all those arrested in the protests across the country. He also blasted those lawmakers who recently demanded the death sentence for some protesters. "In Khamenei's rule there is no freedom. Which political party or group is free? We have neither freedom of speech, nor freedom of media," he added in unprecedented criticism against the Supreme Leader.
An undated phot showing Abdolhamid among Iranian supporters
The Sunni cleric also demanded punishment for those responsible for killing Baluch protesters and refuted claims of separatism brought against them by the government. He alleged that security forces tried to bribe the families of the victims with money to remain silent, which they rejected. "They said they didn't want money; they wanted their dignity to be preserved."
Security forces used live ammunition to disperse protests in Khash on November 4, killing at least 18 protesters and bystanders, including two children. "This latest deadly incident in Sistan and Baluchistan province reveals that protesters from the oppressed Baluchi minority have borne the brunt of the security forces' particularly vicious crackdown on demonstrations," , Amnesty said in a report released November 10.
The report said evidence gathered by the organization "points to a pattern that has emerged in Sistan and Baluchistan province over the past five weeks" of the use of lethal force to against Baluchi protesters.
The global rights watchdog reiterated its call on the international community to take urgent action to stop further killings of protesters in the province and across Iran. "The UN Human Rights Council must help break this cycle of systemic impunity by establishing an independent investigative and accountability mechanism to investigate crimes under international law and other serious human rights violations committed in Iran," Amnesty said.
Abdolhamid's call for a referendum with the presence of international observers to decide the future form of government in Iran has hugely angered hardliners. He recently expressed more liberal views about the role of women in society after being criticized by some Baluch activists for not mentioning women and acknowledging gender equality in his fiery Friday prayer sermons.
Reports about the alleged rape of a 15-year-old Baluch girl in June by a police commander in Chabahar, who has remained immune to prosecution, sparked protests in Zahedan on September 30. At least 100 protesters were reportedly killed in the province since then.