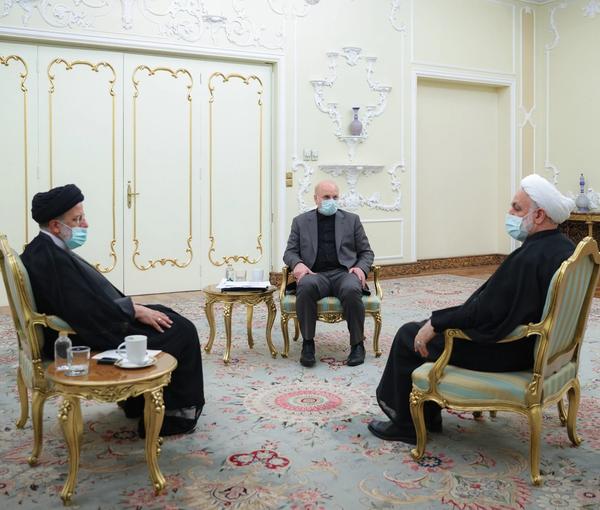 Infighting Among Iran's Conservatives Tearing Them Apart
The nationwide protests going on in Iran for more than 6 weeks have not stopped factional infighting among the country's politicians and political groups.
Although following the 2021 presidential election only conservatives have remained on the political scene, still various groups among them are competing fiercely to win the lion's share of power and financial resources.
The general belief was that the so called "revolutionaries" have the upper hand in Iran's domestic politics after takeover of parliament and the presidency in 2020 and 2021. However, it appears that there are super 'revolutionaries' who want to grab the power from the clutches of those we knew so far as 'revolutionaries.'
Several Iranian news outlets in recent days have quoted Gharn-e Now website as having reported that it was Majles Speaker Mohammad Bagher Ghalibaf who first revealed that super-revolutionaries have been posing a challenge to other conservatives.
More recently, Mohammad Sadegh Tavangar a lawmaker close to Ghalibaf wrote in a commentary on the government-owned news agency ISNA's website that hardliners such as Mohammad Sadegh Koushki and Amir Hossein SabetIi are the leading figures of this group that have been trying to undermine the authority of politicians in the conservative camp, particularly the so-called neo-cons led by Ghalibaf.
MP Mohammad Sadegh Tavangar
These individuals are linked to hardliner former nuclear negotiator Saeed Jalili. Ghalibaf recently lashed out at this group without naming Jalili and accused them of "opening their mouth and saying anything and doing anything without calculating the consequences of their behaviour." He called these individuals super-revolutionaries borrowing a label Supreme Leader Ali Khamenei earlier put on pseudo-revolutionaries. Ghalibaf said, "They have never done any serious work, but they behave in a way as if all of us owe them something." This looked like a characterisation of Jalili, a presidential candidate who was defeated by others at least twice. "If you never write something, no one knows how many mistakes you can have in a sentence," said Ghalibaf.
Hardliner former nuclear negotiator Saeed Jalili
The Majles Speaker has experienced competition from super-revolutionaries associated with the ultra-conservative Paydari party during the Majles elections of 2020 and the presidential election of 2017. He still remembers how they undermined his upper hand in 2017 and put forward Ebrahim Raisi as their candidate, who at the end of the day lost the election to moderate conservative Hassan Rouhani.
In recent months, inside the Iranian parliament, the so-called super-revolutionaries have attacked Ghalibaf several times, the last time by engineering revelations about his family's controversial shopping trip to Turkey.
More recently, those close to Ghalibaf have accused the super-revolutionaries in and out of parliament of causing the ongoing unrest in Iran with their hardline positions and behaviour that have annoyed all walks of life, particularly women and the youths. The Ghalibaf camp's attacks directly target individuals such as Saeed Jalili and those close to him. Tavangar in his commentary in ISNA, has finally named Amir Hossein Sabeti a showman on the state TV who has annoyed almost everyone both on TV and on social media, particularly Twitter. Koushki has done the same as a frequent contributor to those programs. Tavangar said that the duo had an active part in radicalizing Iran's hardliners.
Sabeti's tweet on October 26, in which he accused Iranian protesters of having the blood of the victims of the terrorist attack on a mosque in Shiraz on their hands, seriously annoyed and angered many Iranians.
Tavangar wrote, "They want to force more devolved individuals to leave the train of the Islamic revolution by levelling accusations against them, but we will not allow them to do so."
Meanwhile Tavangar harshly criticised Jalili for keeping silent about the ongoing protests for longer than a month."
Tavangar also criticised the ultra-Conservative party for radicalizing Iranian youths by furthering an initiative to ban social media and for not being accountable for its actions.
The infighting may also signal the neo-cons' attempt to save their faction before the unrest brings down everyone currently in power in Iran.