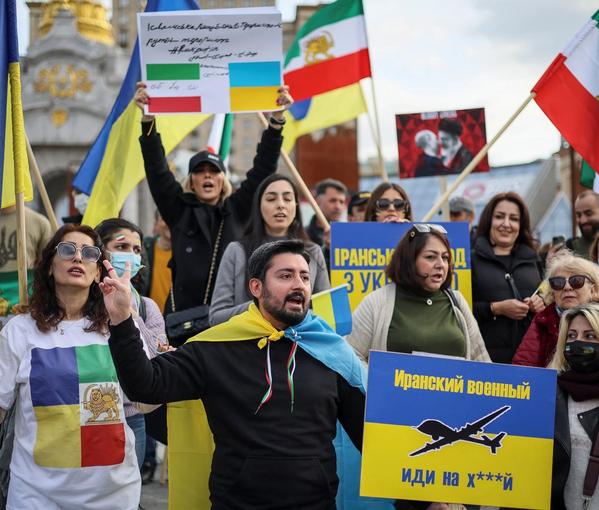 'Old Dreams:' German-Iran Relations Turn Sour
Germany summoned the Iranian ambassador Mahmoud Farazandeh for talks Thursday, Berlin's foreign ministry spokesman told reporters Friday.
This followed Iran summoning German ambassador Hand-Udo Muzel Thursday, when Iranian Deputy Foreign Minister Ali Bagheri Kani criticized Berlin for provoking "rioting and law-breaking in Iran" contrary to international law.
Germany had Wednesday said it would tighten entry restrictions on Iranian officials, issuing visas only where "absolutely necessary." In a statement Wednesday announcing the measure German Foreign Minister Annalena Baerbock said there could be "no 'business as usual' in bilateral relations with a state that treats its own citizens with such contempt for human rights."
Iran has repeatedly criticized European states over 'interference.' Spokesman Nasser Kanaani said October 18 that European Union sanctions over the September 16 death in Tehran 'morality police' custody of Mahsa Amini amounted to "exploitation of human rights as a tool to achieve political goals." Tehran has also alleged foreign-owned media and social-media operations have fostered violence.
Following Tuesday's attack on a shrine in Shiraz, claimed by one outfit linked to the Islamic State group (Isis- Daesh), Ali Khamenei, the supreme leader, said Iranians had "a duty to deal with the enemy and its traitorous or ignorant agents."
German Foreign Minister Annalena Baerbock speaks during a conference, Oct 21, 2022
State media reported Wednesday the killing of two Basij militiamen in the northern city of Amol, a Revolutionary Guard in Tehran province, and three people in Mahabad who had tried to occupy government and security centers. The US-based activist agency HRANA has said at least 252 protesters have died in the unrest, while state media have said around 30 security-force members have been killed.
Change through trade?
Iran is one issue gnawing at Germany's coalition government, led by Chancellor Olaf Scholz, a Social Democrat, formed December 2021 as the first for 16 years without the Christian Democrats.
When the Social Democrat Party (SPD) won last year's German elections, Iran's official news agency IRNA predicted a more positive relationship. But while foreign minister Baerbock, a member of Alliance 90/the Greens Party, has upheld a commitment to international talks aimed at restoring the 2015 Iran nuclear deal, the recent protests in Iran have led Saskia Esken, an SPD co-leader, to call for ending the talks. "The talks must end in the way that the women and men on the streets are being dealt with at the moment," Esken said October 16.
Lars Klingbeil, another SPD co-leader, in mid-October questioned the party's long standing belief in 'change through trade,' the notion that increased commerce, linked to effective diplomacy, would moderate states deemed authoritarian. The SPD applied the approach particularly to Russia, but the same argument has been widely accepted within the EU in support of the Iran nuclear agreement.
While Germany has dragged its feet over reducing Russian energy supplies, straining relations with France, it has promised Ukraine €1.2 billion ($1.19 billion) in military aid – delivering howitzers – behind only Poland on €1.8 billion, the United Kingdom on €3.74 billion and the United States on at least €27.6 billion. German President Frank-Walter Steinmeier, also a Social Democrat, said Friday the Ukraine crisis had replaced "old dreams" – referring to former Soviet President Mikhail Gorbachev's dream of a "common European home" – with "a time marked by war, violence and flight…"