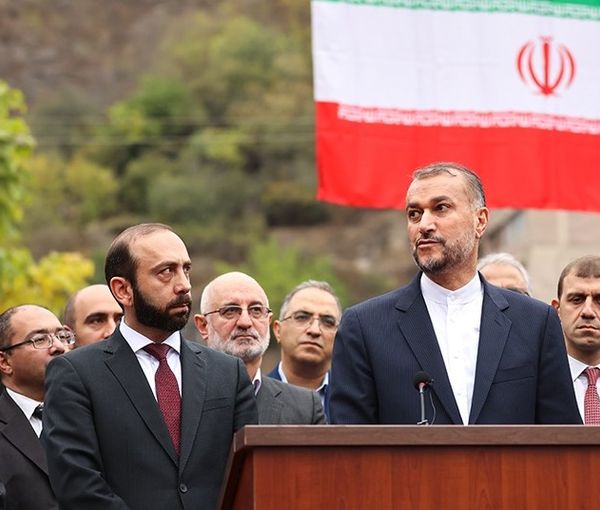 Iran Opens Consulate In Armenian Region Desired By Baku, Ankara
Iran has opened a consulate in Armenia's Syunik province, in what appears to be a gesture of support for Yerevan, after recent military clashes in the region.
Syunik includes Armenia's narrow southern strip called Zangezur where it has a land border with Iran and it launched a free trade zone there in 2017 to attract more investments to boost its exports to Iran.
Azerbaijan backed by Turkey demands a transit corridor through Syunik province to have access to its Nakhichevan Autonomous region without Armenian checkpoints.
However, Yerevan objects to the concept saying that it is a breach of the ceasefire signed after 2020 Nagorno-Karabakh war, that Azerbaijan won, taking back vast territories that Armenia had conquered in the Nagorno Karabakh conflict in the early 1990s.
Iran supports Yerevan in this dispute as it might lose its only joint border with its de facto ally Armenia and Caucasus.
During the opening of its consulate on Friday in Syunik's capital city of Kapan, the Islamic Republic's Foreign Minister Hossein Amir-Abdollahian said that Tehran will not accept any changes to historical borders in the region.
"That is our redline and we will take all steps to resist every such intention," noted Amir-Abdollahian.
Meanwhile a deputy commander of Revolutionary Guard said on Friday that Iran would respond to any move threatening its land corridor to Europe.
"Azerbaijan achieved what it was looking for, and Karabakh was liberated, and we also congratulated it, but today, if there is any aggression we will deal with it," threatened Ali Akbar Jamshidian.
On the other hand, Azerbaijan and Turkey also inaugurated an international airport here Thursday in Zangilan near Iran-Armenia border.
This is the second airport run in the territories Azerbaijan retook after the 2020 war with Armenia. Last year, another airport was inaugurated in Fizuli in the same region.
At this event, Turkish President Recep Tayyip Erdogan said concerns by some circles are not accepted over the land corridor Ankara and Baku seek.
Apparently referring to Iran, Erdogan said "In my opinion, fears and worries among some circles about the Zangezur Corridor, which will connect Nakhchivan to Azerbaijan, are unfounded. There is no place for such fears after the steps taken in all Karabakh."
Earlier this week Iran's Revolutionary Guards (IRGC) launched a large-scale military drill in the northwestern region of Aras along the borders of Armenia and Azerbaijan.
In September 2021 tensions flared up between Iran and the Republic of Azerbaijan after Baku arrested two Iranian truck drivers, accusing them of going to Nagorno Karabakh that lies within its international borders.
The tensions led to military drills by each side and political mudslinging, including Iranian accusations that Azerbaijan allows an Israeli military and intelligence presence on its territory.