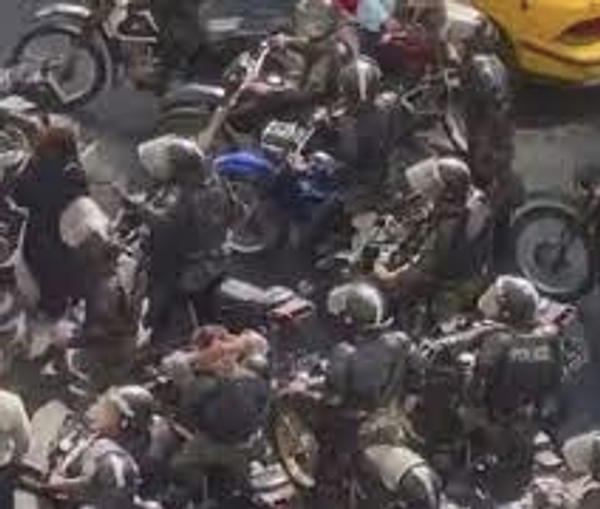 Video Of Security Forces Molesting Female Protester Outrages Iranians
Amid nationwide antigovernment protests across Iran, a video of security forces molesting a woman while arresting her has enraged Iranians all over the world. 
This viral video that has infuriated Iranian social media users shows agents of the Islamic Republic's security forces touching and grabbing the private parts of a female protester during the crackdown on people in capital Tehran. 
Following the global reactions, the chief of the cyberspace headquarters of Basij paramilitary forces, Moslem Mo'in, said the video has been released by dissidents with the aim of inciting people's sentiments.
Although the sexual harassment is obvious in the video, he called the assault "nonsense" aimed at paralyzing by the police forces and creating a defense shield for women protesters. 
The woman, whose identity remains unknown, was then released as other agents were laughing at her.
Fars news agency, affiliated with the Revolutionary Guard, quoted a police source as saying that "some of such encounters are inevitable during riots."
Many other women who participated in the demonstrations have recounted similar encounters by security forces, especially Basij forces who have volunteered for the crackdown and are being paid daily to attack protesters. 
With Iranians from all walks of life venting anger at their clerical rulers during daily rallies, the uprising marks one of the boldest challenges to the Islamic Republic since the 1979 revolution.