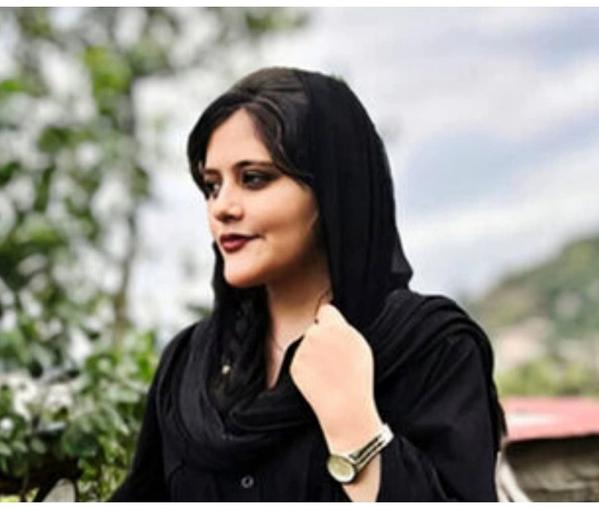 Iranian Coroner Claims Mahsa Amini Did Not Die Of Blows To Body
An Iranian coroner's report into the death of Mahsa Amini said she did not die due to blows to the head but from multiple organ failure caused by cerebral hypoxia.
The death of 22-year-old Amini while in the custody of Iran's morality police has ignited three weeks of nationwide protests. Young women and men have simply rebelled against enforcement of restrictive Islamic rules on their lifestyles and demand an end to religious government.
Her father has said she suffered bruises to her legs and has held the police responsible for her death.
The coroner's report said her death was "not caused by blow to the head and limbs". It did not say whether she had suffered any injuries. The report did say she fell while in custody due to "underlying diseases".
Iran International obtained Amini's brain CT scan from hospital sources in September that shows serious injuries to her skull. Hospital staff also confirmed that she was in a coma upon arrival. Fars news agency affiliated with the Revolutionary Guard confirmed that the CT scan belonged to Amini. Moreover, her photos in the hospital show her bleeding from the right ear, a definite sign of brain injury.
Mahsa Amini's brain CT scan obtained by Iran International
"Due to the ineffective cardio-respiratory resuscitation in the first critical minutes, she suffered severe hypoxia and as a result brain damage," the coroner's report said.
However, Iranian Hengaw Human Rights Organization responded in a tweet that Iran's Legal Medical Organization is not an independent entity and its opinion in politically sensitive cases are issued under the supervision of its security department. "The assessment issued by this organization in Mahsa Amini's case is devoid of any credibility and legal proof," Hengaw said.
Bleeding from the right ear can be seen in this hospital photo of Mahsa Amini
When Amini's incident became public in mid-September, Iranian officials tried to claim that she had previous brain problems or chronic health issues that led her to lose consciousness during her arrest. As evidence emerged that her skull was broken, they stopped making such claims for a while, but after using brutal force against protesters, they are now sticking to their guns, denying wrongdoing.
That tactic also relates to cases of at least two teenage girls who were killed during protests. Officials claim that Nika Shakrami and Sarina Esmailzadeh both fell from rooftops and died. In case of Esmailzadeh, Amnesty International has verified that she was beaten on the head by heavy batons by security forces and taken to hospital by her friends but she died before any medical help was administered.
Activists have called for nationwide protests on Saturday and government attempts to falsely explain away these deaths may further inflame popular anger. But the Islamic Republic has rarely accepted responsibility or guilt in similar situations.
After three years, the government has not issued a report on protests in November 2019 when at least 1,500 demonstrators were gunned down or otherwise killed by security forces who were ordered to stop the unrest at any cost.
Amnesty International said September 30 that a similar order was issued at the onset of the current protests.