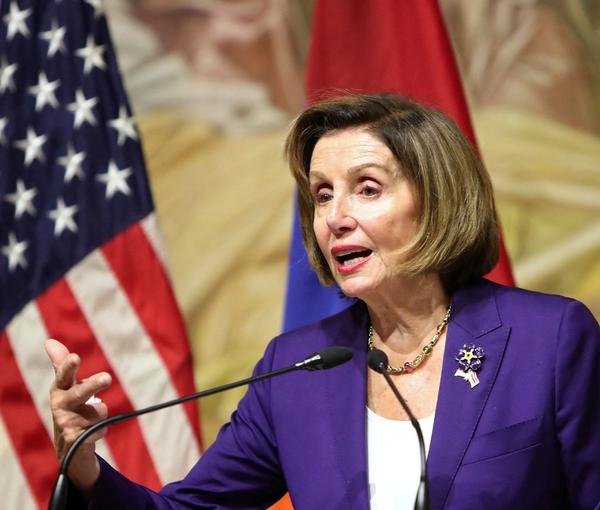 US Leaders Express Support For 'Awe-Inspiring' Protests In Iran
Amid global outcry over the death of a hijab victim in Iran that has sparked an uprising, Speaker of the US House Nancy Pelosi called the courage of Iranian women awe-inspiring. 
Pelosi told Iran International's correspondent that "we're all in awe of the courage of the women of Iran" coming out to hold protests for their own personal freedom. 
Calling Mahsa Amini's death a heartbreaking "murder" by the Islamic Republic, she said it has provoked a response and "that anguish has turned into action that can be helpful in terms of freedom for women and others in Iran."
"If that leads to a change in government in Iran, we'll see what happens there... let's see how that change takes place," she said, noting that when the Shah of Iran was overthrown in the 1979 revolution people thought the new government was going to be a democratic one. "The same people who fought so hard for removing the Shah ended up in jail by the same leaders that are there now," she added. 
Pelosi said that people had their hopes and prayers and they fought for change, and that change turned into "a very oppressive regime." 
She underlined that democracy is about security, economy, and governance, and "how you respect and treat your people" indicates how democratic a government is. 
In addition to voices of support from the US House and the Senate, Secretary of State Antony Blinken also said on Friday that "When we see the Iranian Government firing on peaceful protesters, then cutting off people's access to the global internet, we're not only watching this. We're taking action in response."
"We'll continue to look for ways to support those who are engaging in expressing themselves peacefully in Iran as well as taking actions against those who are responsible for the most repressive human rights violations that one can imagine," he added. 
On Thursday, a bipartisan resolution was introduced at the Senate, calling on the Islamic Republic to end its violent crackdown against peaceful protestors. Several representatives of the House also co-sponsored a resolution, H.Res 1397, condemning the Iranian government's "torture and murder of Mahsa Amini and its crackdown on protesters."
Earlier in the day, National Security Advisor Jake Sullivan said in his press briefing said that the US continues "to condemn the brutality and the repression against the brave citizens of Iran, the brave women of Iran, who are simply marching for their rights and their dignity and their justice." "We continue to stand with them — not just in word, but in deed." 
"We have issued several sanctions against Iranian entities for what they have done in this killing and brutality. And, yes, we will continue to look for targets to impose sanctions in response to these brutal human rights violations," he added. 
Special Envoy for Iran Robert Malley also said on Friday that "Fifty-four countries across the globe signed a statement proposed by Chile and Spain urging Iran to stop using force against peaceful protestors," calling on the Islamic Republic's authorities "to listen to this world-wide call and end the violence against their people."