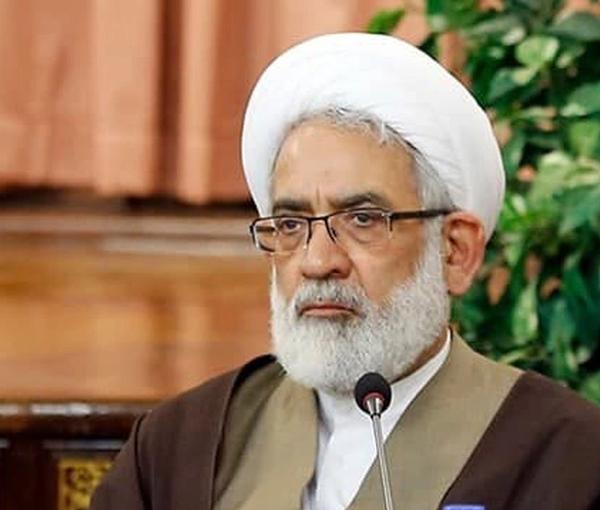 Iran's Prosecutor Issues Harsh Directive To Punish Protesters
Iran's Judiciary has issued a directive to courts to act "decisively" and issue harsh sentences to many of those arrested during the ongoing anti-regime protests.
The general Prosecutor's office headed by a notorious hard-liner cleric; Mohammad Jafar Montazeri issued the directive while thousands have been arrested since September 16 when the first protests began in Iran. At least 3,000 are in detention according to some estimates, but the true number may never be disclosed.
In the previous round of antigovernment protests in November 2019, around 10,000 people were arrested and many faced summary trials without due process of law, without their own lawyers and behind closed doors.
Montazeri's directive to courts in of itself is an oxymoron, since he is the prosecutor, not chief justice or minister of justice. Iran's legal system is based on a convoluted and improvised interpretation of Islamic Sharia, where there is no clear distinction between the prosecution and courts. The latter are controlled by the Judiciary, an extensive bureaucracy which also arrests people and directs prosecutors.
The Judiciary in turn is under the direct control of Supreme Leader Ali Khamenei who has ruled the country for the past 33 years. Judges and prosecutors are all appointed by the chief of Judiciary, an official handpicked by Khamenei.
Montazaeri in his directive offers some leniency toward those whose participation in the protests cannot be evidenced by prosecutors and courts, and who have no prior record, including activism on social media. Even this token measure of leniency can be meaningless since prosecutors routinely claim to have evidence and judges rarely dispute them.
But when it comes to those that the regime considers protesters, Montazeri's directive is harsh.
"Those who have killed or wounded security agents, or destroyed public and private property, those who have attacked military and police centers, those with a record of taking part in previous unrest, thugs and criminals who have encouraged rioters, and foreigners who have been involved in protests should be held in prison until the court convenes and maximum punishment should be requested for them if there is evidence about what they did."
In one paragraph the directive clusters together a wide range of real crimes with expressions of political dissent and demands maximum punishment.
Clashes have taken place between protesters and security forces, who have so far killed dozens of people. Some police and anti-riot troops have been wounded or even killed and this can be easily considered a crime. But the judicial system will use these charges against any protester it wants, with no recourse to a fair trial or appeal.
The directive also allows prosecutors to hold any person indefinitely and past instances show that torture and pressure will be freely used to extract self-incriminating confessions.
The Islamic Republic rarely issues permit for rallies, except to its own supporters who do not need a permission anyway. Therefore, all antigovernment protests can be deemed illegal, and protesters can be confronted by security forces and plainclothes Basij militia armed with clubs, knives and guns.
Often, protesters have no other choice but to defend themselves against the police and Basij members who come to disperse and stop rallies.
Montazeri's directive is also aimed at intimidating a new generation of protesters who have not been cowed after more than ten days of daily confrontations with security forces.