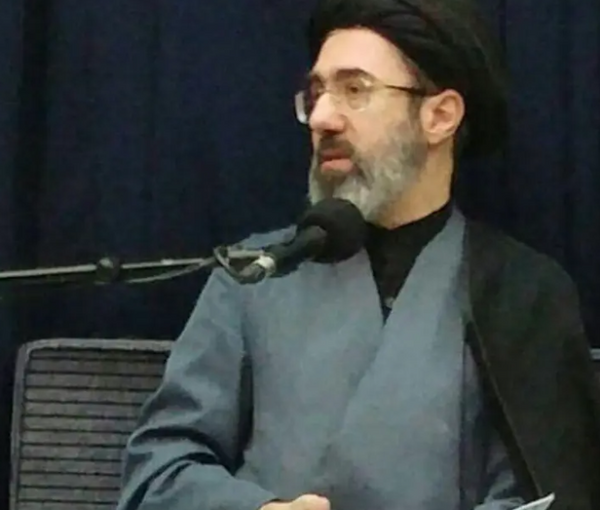 Title Of 'Ayatollah' For Khamenei's Son Seen As Sign Of Succession
An Iranian news agency's use of the title "Ayatollah" for Mojtaba Khamenei has rekindled suspicions that he's being groomed to succeed his father as Supreme Leader.
Social media users have widely interpreted Rasa News Agency's attempt to promote the supreme leader's son as an ayatollah as confirmation that he's being groomed for leadership. The Supreme Leader being also the highest religious authority must be at least recognized as an ayatollah by Grand Ayatollahs.
The news agency used the title in an announcement for registration of Mojtaba Khamenei's theology course, (kharej fiqh), at Qom seminary where he has been studying and teaching for a few years now.
Kharej fiqh is the highest level of Shia seminaries and ayatollah is an honorific title for high-ranking Twelver Shia clergy. Unlike academic titles that one gains automatically after completion of a degree, Shia scholars are usually confirmed as ayatollahs only when their teachers, and peers, address them as such.
The 53-year-old Mojtaba Khamenei, the second eldest of Khamenei's four sons, has until now only been recognized as a hojjat ol-eslam, a much lower rank in the Shiite clerical hierarchy.
Rasa, established in 2003 andknown as the news agency of Qom seminaries,is in the city of Qom where most Iranian Shiite seminaries are located. Rasa Publishers in Persian, English, Arabic, and Urdu.
The news agency calls itself a private media outlet established by seminary scholars and researchers but some Iranian media affiliated with reformists such as the Jamaran news website have claimed that Rasa is funded and run bythe IRGC and criticized it for "meddling in politics".
Mojtaba Khamenei seen greeting former Qods Force commander Qasem Soleimani
Earlier in August, Mir Hossein Mousavi who has been under house arrest since February 2011, warned the nation over the introduction of hereditary leadership, referring to Khamenei's son Mojtaba. Mousavi's warning revived rumors about Mojtaba's activities and his alleged ambition to succeed his father.
Hardliners have fiercely attacked Mousavi, Iran's Prime Minister from 1981 to 1989, for implicitly taking a shot at Khamenei.
Rumors about Mojtaba Khamenei's ambitions have been circulating in Iran since 2005 when he was first accused of rigging the presidential election in a bid to bring like-minded politicians to power.
Mousavi who served as the Islamic Republic's first prime minister from October 1981 to August 1989, under then President Ali Khamenei, was put under house arrest nearly two years after the disputed 2009 presidential elections, when the incumbent Mahmoud Ahmadinejad was announced the winner in suspicious circumstances at Mousavi's expense.
During the protests that followed, protesters often chanted against Mojtaba Khamenei who they held responsible for meddling with the election result, bringing Ahmadinejad to power and the crackdown on protesters. "Die, Mojtaba, may you never achieve leadership," they chanted.
During the past years there have also been rumors about Mojtaba's involvement in financial corruption cases involving the IRGC. The rumors also charged that he supervised the IRGC Intelligence when Hossein Ta'eb, who was recently fired by Khamenei, headed the organization.
Mojtaba Khamenei is an enigmatic figure who holds no public office in the government and is rarely seen in public but reportedly wields much more influence than the leader's other sons in powerful organizations such as his father's office and the IRGC Intelligence Organization (SAS).
Mojtaba Khamenei also has great influence in the country's propaganda machine including the state-broadcaster (IRIB), and behind-the-scenes political dealings.