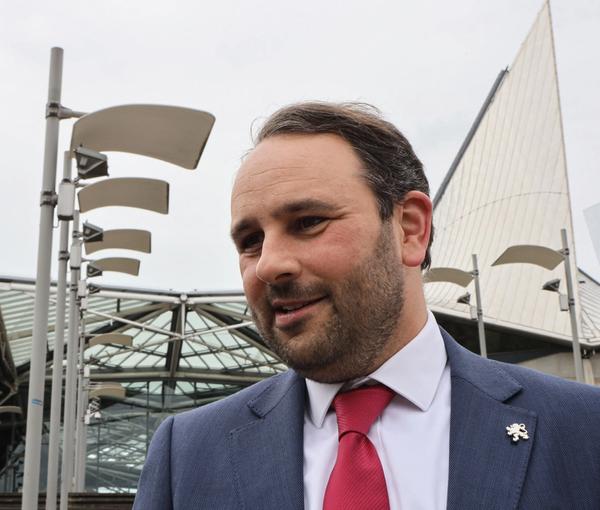 Iran Reportedly Holds Two Belgians As Brussels Plans Prisoner Swap
A draft law in Belgium, which could lead to the release of an Iranian diplomat in prison for planning a terror attack 4 years ago, has raised strong opposition.
The draft law, which has been sent to parliament and put on the agenda of the foreign affairs committee stipulates a prisoner exchange agreement with Iran, India, and the United Arab Emirates (UAE).
An informed source told Iran International that two Belgian citizens are currently in prison in Iran. One of the two is apparently an Iranian-Belgian professor of Louvain University. His case was mentioned a few years ago by the chancellor of Tehran University, Mahmoud Nili. Nili said the university had stopped its exchanges with Tehran University due to his arrest but did not name him. It is not clear who the other Belgian is.
Critics say the bill's approval would pave the way for the repatriation of Asadollah Asadi, an Iranian diplomat serving a 20-year sentence in Belgium for "attempted murder and involvement in terrorism."
Assadi, 50, a former attaché at the Iranian embassy in Austria, was convicted of plotting to bomb a gathering of the exiled opposition group Mujahedin-e Khalq Organization (MEK) near Paris on June 30, 2018.
Darya Safai, an expatriate Iranian dentist and member of the Belgian Parliament, in a video message Friday protested against the government's decision to rush a prisoner exchange treaty with Iran.
Safai said she and some other lawmakers have demanded an answer from the minister of justice, Vincent Van Quickenborne, but have not been offered a convincing answer.
Former Iranian Diplomat Assadollah Assadi convicted in Belgium of leading a terror plot
"We will register guarantees regarding the rule of law, the execution of sentences and human rights, because our country has a strong international reputation in this area and we must uphold that reputation," Van Quickenborne has said regarding the proposed law.
Safai told Iran International that the bill does not exclude those in prison for terrorist activities and will therefore pave the way for the release of Iranians involved in terrorism in Belgium in the future. "My life and that of my husband, children and so many others are in danger and that is why I ask for your attention," Safai said in her message.
Another Belgian lawmaker, Michael Freilich, has also questioned the government over its "urgent" prisoner exchange plans. "Why does this all have to be so fast?" he asked the Parliament. "I am strongly opposed to any deal to release convicted terrorists from jail.
Let's make it clear: We do not negotiate with terrorists!" he tweeted in May regarding Iran's demand for Asadi's freedom.
According to Brussels Times, if passed, the law would ensure that Iranians convicted in Belgium can serve their sentences in their home country, and vice versa.
"Asadi will not remain in prison even for one day [in Iran]," Safai said, adding that Iranian authorities will welcome him home with flower garlands when he gets back.
There is a possibility that the agreement would lead to Asadi's exchange with Swedish-Iranian professor Ahmadreza Djalali(Jalali), Brussels Times sais on Saturday.
Djalali was arrested during a working visit to Iran six years ago. He was sentenced to death in October 2017 on charges of spying for Israel.
Amnesty International released a detailed research and analysis paper in May to prove that Iranian authorities were threatening to execute Djalali to compel Belgium and Sweden to hand over Asadi and Hamid Nouri who is in prison in Sweden for involvement in mass execution of prisoners in 1980s, and "to deter them and others from future prosecutions of Iranian officials".