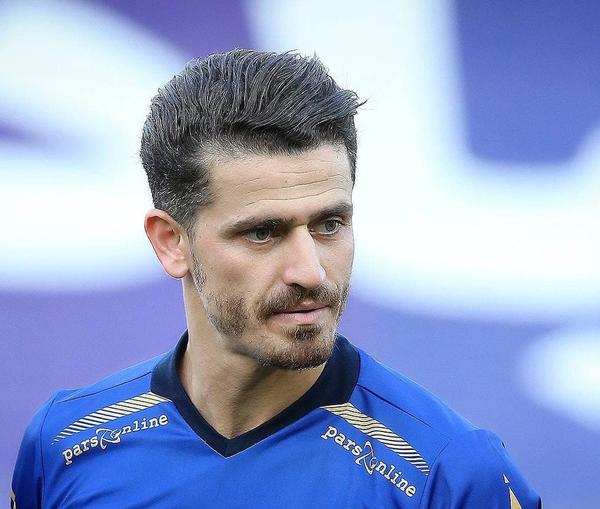 Iranians Praise Footballer Excluded For Criticizing Government
Many Iranians are praising a football star who was fired from his team for criticizing the government, and they condemn the authorities for pressuring athletes.
Fans took to social media when it became clear on Tuesday that the Persian Gulf Pro League Esteghlal FC had no intention of renewing the contract of its captain, Voria Ghafouri and pushed the hashtag "Voria is not alone" to the top of Persian Twitter. A group of Esteghlal fans also held a protest rally outside the club's headquarters after the announcement was made on Wednesday.
Ghafouri's future with his club and the national team became highly doubtful in May when he rebuked the government for its handling of protests sparked by a sudden rise in prices and many feared that the authorities would push for his exclusion from his team as punishment.
"Voria Ghafouri was excluded because he did not consent to side with the government against the Iranian people," dissident blogger Hossein Ronaghi tweeted. "In the Islamic Republic sports is totally political ... Elimination of popular athletes [who speak up] is meant to cover up the crimes of the government," he wrote.
Hardliners deny any connection between the footballer's political views and his exclusion from his team due to alleged interference of state authorities.
In a tweet Wednesday, Abdolreza Davari, one of former President Mahmoud Ahmadinejad's advisors and confidants who later turned against him, accused the former captain of Esteghlal FC of making controversial statements "to play victim" because he knows but at the age of 35 he is no longer physically fit to play and that the renewal of his contract is not likely.
Ghafouri wearing a jersey in hono of a femal fan who set herself on fire for being denied entry into the stadium
"It is the right of the Iranian people to live a happy life," the national team star said in a post-match interview in May in reference to the economic and social pressures Iranian people have been enduring and said authorities responsible for it must feel shame.
The outspoken footballer has been in trouble with the authorities for quite some time. In 2019 he was summoned for explanations after he criticized Foreign Minister Mohammad-Javad Zarif in an Instagram post for saying Iranians were "proud of being under pressure defending the people of Palestine, Lebanon, Yemen and Syria."
"You are not under pressure … It is the ordinary people who are under pressure," Ghafouri retorted to Zarif.
Ghafouri's criticism of Iran's regional policies and the authorities for downplaying the impact of US sanctions on ordinary Iranians also drew an angry response from Supreme Leader Ali Khamenei.
"Some people, who benefit from the country's peace and security enjoying their jobs and their favorite sports, bite the hand that feeds them," Khamenei said in a clear reference to Ghafouri in a public speech on February 18, 2019.
Ghafouri was summoned by the Ministry of Sport for an explanation for his comments within a few hours of Khamenei's speech.
The footballer is also known for supporting women's right to watch football in stadiums from which they have been banned for over four decades.
In 2019, a young girl, Sahar Khodayari, died in hospital after setting herself on fire outside a court in Tehran where she was to go on trial for attempting to enter a stadium disguised as a man to watch her favorite team. She became known as 'The Blue Girl' for the color of her club. Ghafouri wore a jersey with Blue Girl written on his chest to honor herbefore a match.