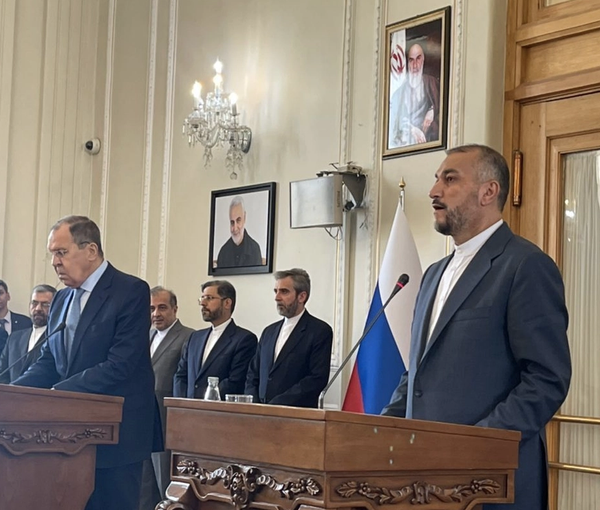 Russia's Lavrov In Tehran As Iran Seeks Post-Ukraine Realignment
Hosting Russian counterpart Sergei Lavrov, Foreign Minister Hossein Amir-Abdollahian reiterated Thursday Iran's support for a diplomatic end to the Ukraine war.
Amir-Abdollahian was speaking at a press conference alongside Lavrov, who arrived in Iran Wednesday on a two-day visit that appears to bring Moscow and Tehran closer. Talks have reportedly covered the 2015 Iran nuclear deal and boosting bilateral trade as the fall-out from Ukraine continues.
"We believe that American actions done through NATO are part of the crisis' causes," Amir-Abdollahian said. "However, the Islamic Republic does not see war as a solution and welcomes political talks…"
Lavrov stressed the importance of adding "depth" to the "height" of existing Iran-Russia relations, and suggested "experts" should work on "ways to substantiate" the 20-year cooperation agreement in principle reached February, which some Iranian analysts argue has yielded few benefits. The Russian foreign minister also made an oblique remark on extending "the protection of intelligence," probably referring to enhanced security cooperation.
'Correct understanding'
The Russian foreign minister said he agreed with sentiments over Ukraine expressed Wednesday by President Ebrahim Raisi, who had warned of the necessity of being "active in the face of attempts to expand NATO's influence in any part of the world, including in West Asia, the Caucasus and Central Asia." Lavrov thanked Iran "for his correct understanding of the roots of this problem."
While Russia, alongside China, voted against the June 8 resolution critical of Iran raised by the United States and three European states at the International Atomic Energy Agency (IAEA), Moscow's efforts to discount exports – especially oil and steel– can have adverse consequences for Iran, including cutting its competitiveness in supplying China.
But any new pattern is unclear. According to Petro-Logistics, the oil trade analysts, Iran's oil exports jumped from an average 461,000 barrels per day in May to 961,000 between June 1 and June 19. China has been easily Iran's main crude market since the US in 2018 imposed 'maximum pressure' sanctions, threatening punitive action against third parties, when Washington left the 2015 nuclear deal, the Joint Comprehensive Plan of Action (JCPOA).
Reuters reported June 22 the arrival in China of a shipment of 2 million barrels of Iranian oil. Most of the latest cargoes, it said, were for state reserves and not, as had previously often been the case, purchases by small, independent refineries.
India's 'independent' approach
Prior to receiving Lavrov in Tehran, Amir-Abdollahian June 8-10 visited India, which has not only resisted US and European calls to boycott Russian oil exports but increased its purchases to the extent Moscow became last month its second largest crude supplier, after Iraq.
Some analysts in India have welcomed the 'independent' approach of Prime Minister Narendra Modi, comparing it favorably with New Delhi's decision in 2007 under US pressurenot to go ahead with a gas pipeline from Iran, a move that followed India voting at the IAEA in 2005 to refer Iran to the United Nations Security Council. India abstained on the June 8 vote censuring Iran at the IAEA governing board.
During Abdollahian's visit, India's Prime Minister Narenda Modi tweeted June 8, the day of the IAEA censure resolution: "Our relations [with Iran] have mutually benefited both the countries and have promoted regional security and prosperity."
While Russia-India trade was around $13 billion in 2021, small relative to Moscow's $750-billion trade with the European Union, some Russian analysts argue it will now increase rapidly and that projections of $30 billion by 2015 need upward revision. And while Iran's small trade with Russia, though expanding, is unlikely to even come close to $25 billion by 2025, another aspect of post-Ukraine realignment may be Iran's increasing role as trading hub between Russiaand its Asian markets, especially India.