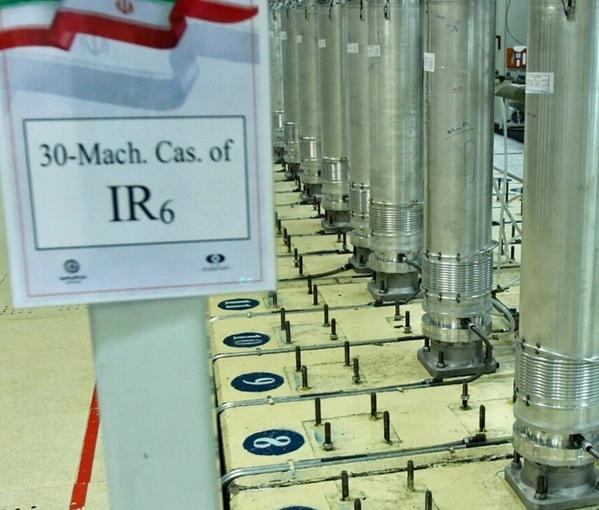 Iranian Nuclear Program Goes Up Another Notch
Iran has begun to employ advanced IR-6 centrifuges to enrich uranium at its underground Fordow site, the International Atomic Energy Agency reported Monday.
A confidential report seen by the Reuters news agency noted that the centrifuges were fitted with "modified sub-headers," which allow rapid switches in enrichment levels, and that Iran had not as yet informed the agency (IAEA) what level of enrichment it planned.
The move follows a vote June 8 at the 35-nation IAEA board condemning Iran over failing to satisfy the agency over queries about uranium traces found at three sites linked to past nuclear work.
In response to the board's resolution – passed against Chinese and Russian opposition – Iran's acting IAEA ambassador Mohammad Reza Ghaebi said Tehran would make a "firm and proportional" response. Iran quickly informed the IAEA it was installing IR-6 centrifuges at the Natanz site and was removing some of the agency's monitoring equipment.
Tehran told the IAEA Monday it had begun Sunday to feed uranium hexafluoride (UF6) gas into centrifuges at Fordow, a site dug into a mountain to shield it from attack. Iran earlier told the agency that its two cascades at the site would be used to enrich to 5 percent or 20 percent. Enrichment to 60 percent, close to the 'weapons grade' of 90 percent, has been done at Natanz.
The latest expansion in Iran's nuclear program comes with a pause since mid-March in year-long talks in Vienna between Iran and world powers aimed at reviving the 2015 Iran nuclear deal, the JCPOA (Joint Comprehensive Plan of Action). Iran began breaching JCPOA limits in 2019, the year after President Donald Trump withdrew the US from what he called "the worst deal in history." The JCPOA barred the use of relatively advanced IR-6 centrifuges, all enrichment above 3.67 percent, and any enrichment at Fordow.
'Terrorist octopus'
With no sign of talks resuming to revive the JCPOA, Israeli Prime Minister Naftali Bennett has trumpeted what he calls the 'Octopus Doctrine' by which Israel, as he told a parliamentary committee this month, "has taken action against the head of the terrorist octopus and not just against the arms as was done in previous decades."
The 'Octopus Doctrine' has seen drones and cyber-sabotage used in attacks on Iranian nuclear and military facilities, and is widely believed to have involved killing Iranian scientists, engineers and officers. Israeli media Friday warned tourists in Turkey not to leave their hotel rooms to avoid attacks and kidnapping by Iranian agents.
Accused domestically by both JCPOA supporters and opponents of lacking a 'plan B' should the nuclear talks fail; the Biden administration is reportedly sticking to its insistence on keeping Trump's designation of Iran's Revolutionary Guards as a 'foreign terrorist organization.' An Iranian initiative to restart the Vienna process reportedly involved Iran dropping its demand that the IRGC be delisted but insisting US sanctions be lifted from its construction arm, Khatam-al Anbiya.
With President Joe Biden due to visit Saudi Arabia and Israel in July, the US is encouraging greater coordination between the Israelis and some Gulf Arab states in defense against missiles and drones either operated by Iran or supplied to allies, Hezbollah, Ansar Allah (known as the Houthis), and Iraqi groups. Despite his stated aim of renewing the JCPOA, Biden is drawing closer to JCPOA opponents Israel and Saudi Arabia while Iran continues to expand its nuclear work.