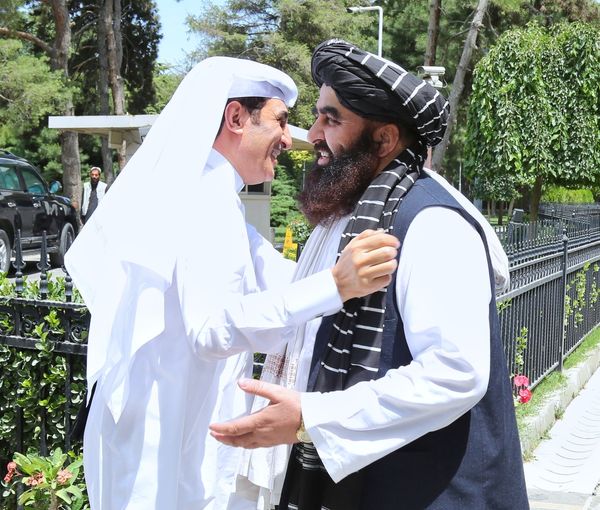 Qatar Says It Shares Strong Ideological Bonds With Taliban
The National Security Advisor to the Emir of Qatar said Doha has strong ideological ties with the Taliban, during a meeting with Afghanistan's acting interior minister. 
Mohammed bin Ahmed al-Misnad of Qatar and Sirajuddin Haqqani met on Friday and discussed bilateral ties during the Qatari official's formal trip to Afghhanistan. 
Al-Misnad and his accompanying delegation also held separate meetings with Foreign Minister Amir Khan Muttaqi, First Deputy Prime Minister Abdul Ghani Baradar, and Information and Culture Minister Mullah Khairullah Khairkhah, where they pledged Qatar's continued cooperation in political and economic affairs with Afghanistan.
In his meeting with the Qatari delegation, Muttaqi called on Qatar to help Afghanistan in investment, economic growth, humanitarian aid, and counter-narcotics efforts.
"Now that security has been restored in Afghanistan, employment for the people has been created, it is time to show the world the actual picture of Afghanistan," said Baradar, adding that the ground is now paved for Qatar and other regional and international allies to invest in infrastructure projects in the country.
Despite assurances by the Taliban, security has not been fully established in Afghanistan as armed opposition continues and the fundamentalist group continues enforcing draconian restrictions on individual and political freedoms.
This marks the first official visit to Afghanistan by a high-ranking Qatari delegation since the United Arab Emirates (UAE) took over the ground operations and aviation security contract at Kabul Airport.