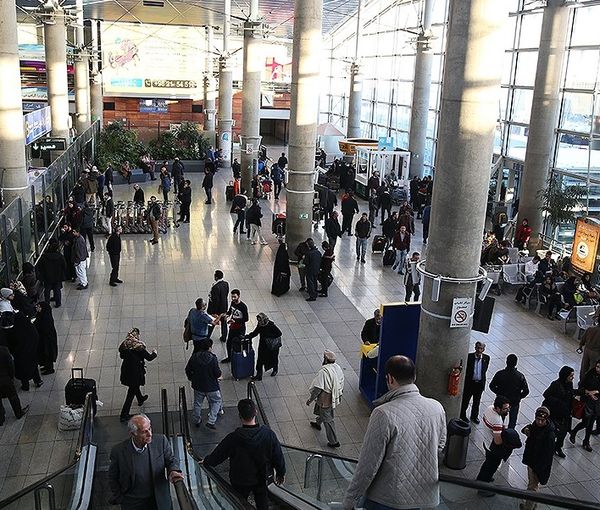 Iran Detains Swedish Tourist In Suspected Hostage Taking
Pundits say the reported arrest of a Swedish national in Iran last week is yet another case of hostage-taking of foreign nationals to pressure other countries.
The Swedish ministry of foreign affairs has confirmed that a Swedish national is in Iranian custody now but has offered no further information or comments. Iranian authorities have not yet commented on the issue.
The news came just days after Iran threatened to execute a Swedish-Iranian scientist detained on "espionage" charges since 2016 and sentenced to death.
Sweden's Aftonbladet newspaper Thursday reported the arrest of an unnamed 30-year-old Swedish man last week and said the embassy in Tehran was working on his case in contact with Iranian authorities.
The newspaper said the detained tourist who had been traveling with other Swedes was arrested when he wanted to leave the country. According to Aftonbladet, the man had no connection with Iran other than being there as a tourist.
An "informed source" told Aftonbladet that the arrest relates to the case of former Iranian prosecutor Hamid Nouri who is on trial in Sweden. Swedish prosecutors have asked for a sentence of life imprisonment for Nouri for crimes against humanity committed during the prison purges of 1988 in Iran.
The source also said Iran has demanded Nouri's release through various channels, but the Swedish government has made it clear its courts are independent from the government and it cannot interfere with their decisions.
"Iran takes citizens of other countries hostage every time it is in trouble with a country. The international community considers [this kind of] hostage-taking as terrorism," the Washington Post journalist and former prisoner in Iran, Jason Rezaian, told Iran International.
Many cite Rezaian's own case as hostage-taking by the Islamic Republic. Rezaian and his wife, Yeganeh Salehi, also a journalist, were arrested in July 2014. He was accused of espionage and propaganda against the Islamic Republic and in October 2015 was convicted.
Iran did not disclose the length of his prison term but released him in January 2016 with three other American prisoners in exchange for the release of seven Iranian prisoners. On the day of Rezaian's release Washington also released $1.7 billion of Iran's frozen funds in the US.
Speaking to Iran International, Mohsen Sazegara, expatriate political dissident, called the arrest of the Swedish tourist as hostage taking and putting another Swedish national, Hamidreza Djalali (Jalali), on death row "the height of the Islamic Republic's impudence and shamelessness".
"Nouri's trial has turned into a matter of honor for the Islamic Republic. With the case moving forward, the matter of seeking justice for crimes and executions of the 1980s in which the current [Iranian] president is also involved will gain more importance," political analyst Ali Afshari told Iran International. "That's why authorities of the Islamic Republic have resorted to distraint."
Sweden last week advised its citizens to avoid unnecessary travel to Iran in view of the impending announcement of Nouri's sentence on July 14.
Tehran's relations with Stockholm have been on a downward slope since Nouri was arrested.Foreign minister Ann Linde in a tweet Wednesday expressed concern over Djalali. Linde has not commented on the arrest of the Swedish tourist yet but in a joint statement Friday with her Canadian counterpart, Mélanie Joly, referred to another matter in relations with Tehran that involves Swedish nationals.
The two foreign ministers said they are committed to holding Iran accountable for the "actions and omissions of its civil and military officials" that led to the downing of Flight PS752 in January 2020 by "ensuring that Iran makes full reparations for its violations of international law." Seven Swedish citizens died on the flight downed by Revolutionary Guards missiles.