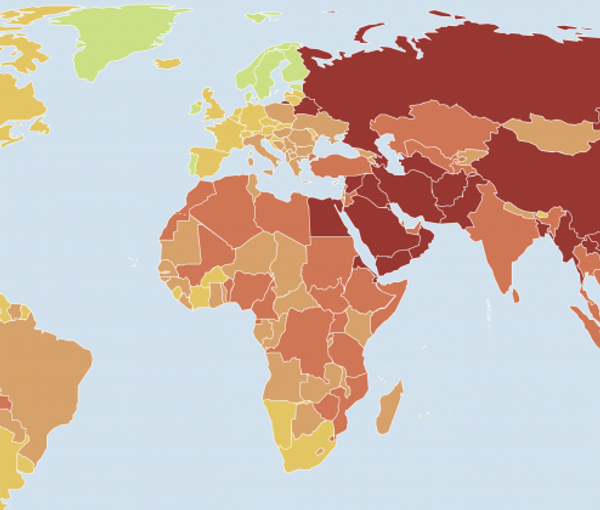 Iran Worst Country In Press Freedom Index After Eritrea, North Korea
The 20th World Press Freedom Index by Reporters Without Borders (RSF) has put Iran at the rock bottom of the list, only better than Eritrea and North Korea.
Iran has ranked 178th out of 180 countries in the table, which is four places worse compared with the previous report published in 2021. In the 2022 index, even Turkmenistan, Myanmar and China rank better than the Islamic Republic.
The RSF calling 2021 for Iran "another tough year for press freedom" as "the two main leaders accused of abuses and crimes committed against journalists for 30 years, Ebrahim Raisi and Gholam Hossein Mohseni-Ejei, became, respectively, president of the republic and head of the Iranian judicial system. The result: an increase in arbitrary arrests and convictions, and journalists imprisoned and denied medical care"
Reza Moini, head of RSF's Iran-Afghanistan desk, told Radio Farda on Tuesday, "Unfortunately, this year Iran has reached the point where we call it the hell gate countries".
Iran has jailed hundreds of journalists, writers and bloggers in the past three decades, accusing many of endangering national security for expressing their opinions. Some have died in prison, such as Baktash Abtin who died under custody on January 8, after being denied timely medical care for Covid-19.
The Index is a snapshot of the level of press freedom enjoyed by journalists and media during the calendar year (January-December) prior to its publication but when the press freedom situation changes dramatically in a country between the end of the year assessed and publication, the data is updated to take account of the most recent events, such as a major attack on journalists, or the sudden introduction of an extreme repressive policy.
Iran also has restricted access to internet for more than two decades, with thousands of websites blocked. Access is also blocked to major social media networks such as Facebook and You Tube.
Mohammaed Mosaed, a persecuted Iranian journalist who won the 2020 press freedom award of the US-based Committee to Protest Journalists told the award ceremony last year "Telling the truth in Iran is a crime."
"Speaking the truth is dangerous in my country because the government fears not only the truth itself but also the audacity behind telling the truth and this has turned speaking the truth into a crime in my country," he said.
Mosaed was jailed had received a four-year sentence when he exposed corruption in the government.
The RSF called on the United Nations last week to take swift action to ensure Iran followed "international human rights law" over the treatment of jailed journalists.
Press freedom is defined by the RSF as "the ability of journalists as individuals and collectives to select, produce, and disseminate news in the public interest independent of political, economic, legal, and social interference and in the absence of threats to their physical and mental safety."