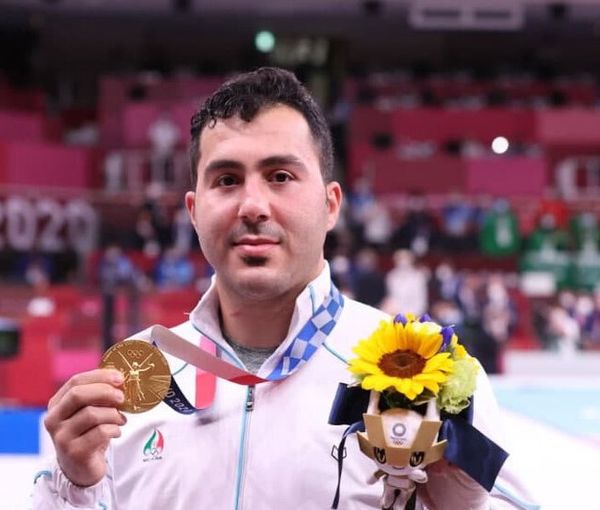 Olympic Karate Medalist Slams Iran's Ban On Competing With Israelis
Iranian karate champion Sajjad Ganjzadeh has criticized the Islamic Republic for not allowing athletes to play sports matches against Israeli competitors.
Ganjzadeh said in an Instagram post on Monday that such an approach forces athletes to only attend Asian competitions, in which Israel does not participate.
Urging the authorities not to consider only political issues and their ideological position, the Olympics gold medalist said, "We cannot tolerate this anymore. Not competing is more difficult than competing".
Iran is a sworn enemy of Israel, calling for its destruction and prohibits sportspeople from playing against Israeli competitors. There is no legislation banning athletes but under pressure from federation officials, they usually lose games intentionally, forfeit matches or claim injury to avoid facing Israelis.
Supreme Leader Ali Khamenei has often praised Iranian athletes who refuse to play against Israelis, and in September 2021 said they should continue to do so even if facing punishment by international sports bodies.
About 30 Iranian athletes in recent years have defected from Iranian national teams and sought asylum in other countries, including Judo champion Saeid Mollaei, Greco-Roman national team wrestler Ali Arsalan, and many others.
Mollaei defected to Mongolia in 2019 after reportedly losing a fight to avoid Israel's Sagi Muki. As a result of the Mollaei case, the International Judo Federation in April 2021 banned Iran's judo teams from international competitions for four years. At the 2020 Tokyo Olympics, Mollaei won a silver medal competing under the Mongolian flag.