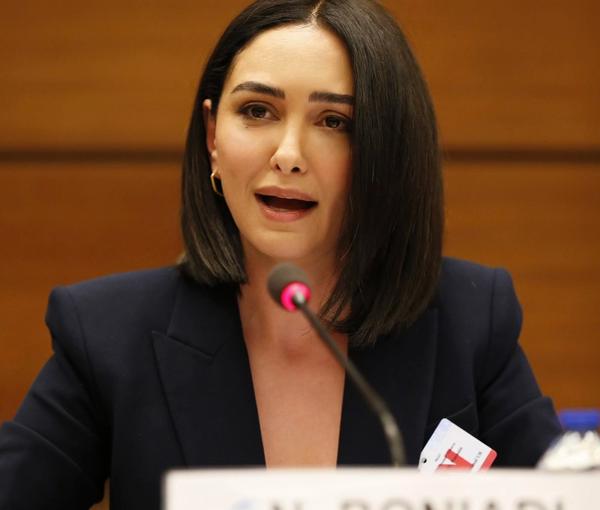 Actress Asks Why Iran Is On UN Women's Commission
British-Iranian actress and human rights activist Nazanin Boniadi has asked the United Nations why Iran is a member of its Commission on the Status of Women.
"If we agree it is a farce for Russia to sit on the Human Rights Council, how can the Islamic Republic of Iran − a regime that subjugates women − be elected to the UN body for gender equality and empowerment of women?" she said Tuesday at the 14th Geneva Summit for Human Rights and Democracy. Members of the Commission on the Status of Women are elected from all continents for four-year terms. Current members include Afghanistan, Israel, Saudi Arabia, and the United States.
Boniadi, who left Iran in 1980 as a baby when her parents became political refugees, cited Narges Mohammadi, who last year refused to answer a court summons, and Zahra Kazemi, a dual Iranian-Canadian photojournalist who died in Tehran's Evin prison in 2003. Boniadi said that support for UN resolutions over such cases was "the least people of Iran expect from the free world," and welcomed the UN Human Rights Council extending the mandate of the Special Rapporteur on Human Rights in Iran.
"The people of Iran are being denied their basic human rights," Boniadi said. "Since the 1979 revolution, the denial of fair trials and due process have been symptoms of the Iranian authorities' disdain for the rule of law and those defending it, as well as tools for the monopolization of power and the persecution of those who challenge it."