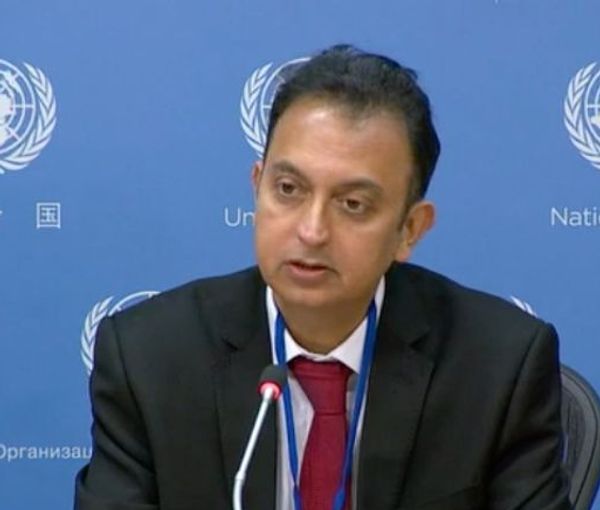 Iran Dismisses UN Human Rights Assessment As 'Biased Report'
Iran's foreign ministry on Friday accused the UN Human Rights rapporteur of 'politicizing' the situation of human rights in Iran and issuing biased reports.
In a statement, ministry spokesman Saeed Khatibzadeh said the latest report of UN special rapporteur Javaid Rehman on the situation of human rights in Iran to the UN Human Rights Council was "full of one-sided and incorrect information and conclusions" and contained allegations based on misinformation received from "hostile sources".
In the report Rehman highlighted the situation of American, British, French, German, Austrian, and Swedish prisoners in Iran, several of whom were convicted by Revolutionary Courts on vague security charges after trials that did not meet international standards of due process.
The accused in such cases often cannot choose their defense attorneys. Trials take place behind closed doors, and duration of detentions before trial are arbitrary. International human rights organizations have documented numerous instances of violations.
Iran released two British-Iranian detainees on Wednesday after the payment of an old $530 debt to Iran but Iran's foreign minister, Hossein Amir-Abdollahian denied there was any connection between the payment and the release of the two detainees who spent several years in prison on charges of spying.
Ahmadreza Jalali, a Swedish Iranian scientist before being arbitrarily detained in Iran and after 5 years of prison.
International organizations such as Human Rights Watch (HRW) and the UN Working Group on Arbitrary Detention have for years said Iran's security forces were targeting Iranian dual citizens and foreign nationals, charging them with cooperating with "hostile' states without revealing any evidence, and sentencing them after trials that violated their right to due process."
According to Rehman's report, in 2021 Iran executed at least 280 individuals, including at least 10 women and three juvenile offenders who were convicted of crimes committed before they reached the age of 18.
Rehman, a professor at Brunel University, has not visited Iran since he was appointed in 2018, because Iran has banned UN and other human rights investigators from visiting the country.
"We condemn the application of double standards by Western countries and the instrumental use of the concept of human rights as well as the silence and inaction of countries that claim to be advocates of these rights" in the face of human rights violations by certain countries, Iran's President Ebrahim Raisi said Monday.
After Saudi Arabia's execution of 81 prisoners in the largest mass execution by the kingdom in modern history over "terror-related offenses", Kazem Gharibabadi, the secretary of Iran's High Council for Human Rights, also criticized Western countries for using human rights to put pressure on non-aligned countries but not their allies such as Saudi Arabia.
As in his previous quarterly reports, in his latest report to the forty-ninth session of the UN Human Rights Council Rehman urged Iran to immediately abolish the death penalty for all offences through legislation.
Pending abolition, he urged the authorities to impose an immediate moratorium on executions and commute all death sentences, amend legislation to prohibit the execution of persons who committed a crime while under the age of 18 years and for offences that do not amount to the most serious crimes under international human rights law.
He also urged protection of prisoners and detainees from all forms of torture and other cruel, inhuman, or degrading treatment or punishment and ensuring that confessions are not obtained through torture or ill-treatment, revise legislation to eliminate child marriage, and improve conditions in prisons.