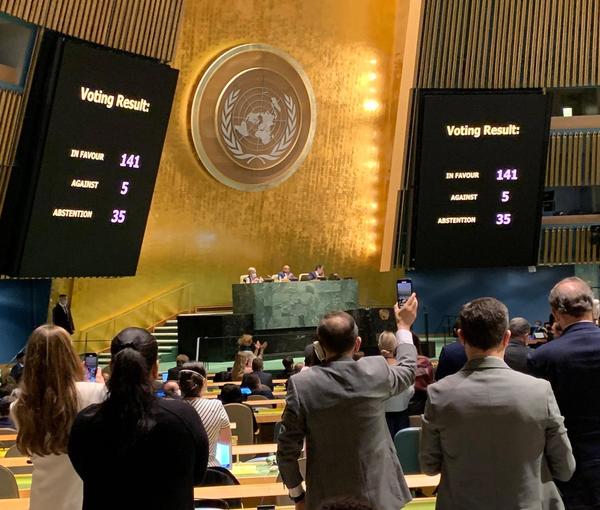 Iran Abstains On UN Resolution Deploring Russian Invasion
The Islamic Republic abstained from voting on a UN General Assembly resolution deploring the Russian invasion of Ukraine and urging the immediate withdrawal of the troops.
In an emergency session on Wednesday, the United Nations General Assembly overwhelmingly voted to condemn Russia over its attacks and demanded that Moscow stop fighting.
The resolution "deplores"Russia's "aggression against Ukraine." Although General Assembly resolutions are non-binding, they carry political weight.
Some 141 of the 193 member states voted for the resolution, and 35, including Iran and China, abstained the move aimed at diplomatically isolating Russia at the world body.
Russia itself, North Korea, Syria, Belarus and Eritrea were the only five that voted against the resolution.
A similar resolution was not upheld in the Security Council on Friday because Russia – as one of the five powers with a veto power – vetoed it. Ukraine's allies referred the matter to the general assembly.
The last time Security Council referred a crisis to the Assembly was in 1982. It is only the 11th time an emergency session of the UN general assembly has been called since 1950.
Iran's president and other officials have supported Russia's move by blaming the United States and NATO for provoking the invasion
Iran's state media and hardliner outlets have avoided using the word 'invasion,' while conservative and reformist media have in some instances criticized Russia for the invasion or expressed more nuanced views.