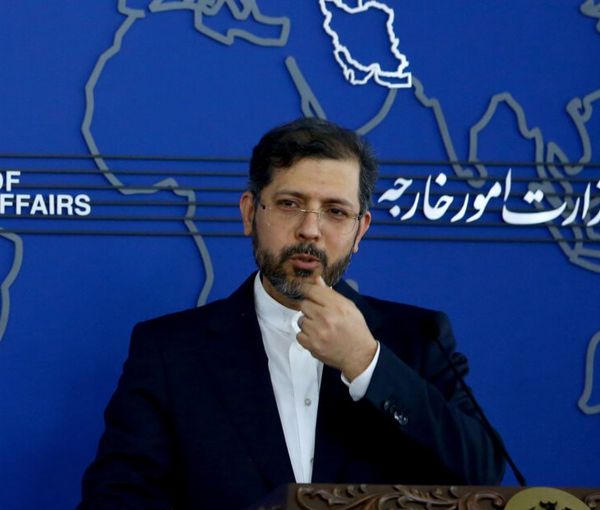 Iran Says '97-98 Percent' Of A Draft Nuclear Agreement Is Ready
A draft agreement is "97-98 percent ready" in Vienna to revive the 2015 nuclear agreement, Iran's foreign ministry spokesman said Monday in a press briefing.
Saeed Khatibzadeh acknowledged for the first time that a draft agreement between the two sides is ready, although earlier Tehran had dismissed a Reuters report quoting other sources about the existence of such a document.
Khatibzadeh did not mention what the remaining 2 or 3 percent of problems are, but both Iran and the United States in recent days had emphasized that important and serious issues remain unresolved.
Iran's spokesman reiterated that the West must resolve three key questions to reach a deal, according to ISNA news agency in Tehran.
"Reaching a good deal is possible ... three key issues still remain to be resolved. The US and European powers have not taken political decisions on these major issues," Khatibzadeh said.
The United States, United Kingdom, France and Germany negotiating in Vienna have said that they have submitted their final offer to Tehran, and it is up to the Iranian government to respond.
Iran International reported on Saturday that Washington has imposed an "immediate deadline" demanding a response from Tehran. Both Western and Iranian foreign ministry sources confirmed that the deadline set was a matter of days.
Top Iranian oficials held several national security meetings in recent days, but sources told Iran International that a major meeting on Friday where Supreme Leader Ali Khamenei was present ended inconclusively.
Khatibzadeh on Monday said that Iran's chief negotiator Ali Bagheri-Kani has returned to Vienna to pursue the talks.
Bagheri Kani, who flew to Tehran last week for consultations with Iranian officials, will "pursue the negotiations with a clear agenda aimed at resolving" the remaining issues, IRNA said.
On Sunday Khatibzadeh said that Iran will not accept any deadline set by the West.
"Iran accepts no deadlines," Khatibzadeh said, in apparent reaction to media reports that the United States had set a deadline for the nuclear talks in the Austrian capital Vienna.
Iran has made clear it wants an end to the oil and banking sanctions that are hurting its economy, while insisting also on the lifting of human rights and terrorism-related curbs.
On Saturday, Iranian Foreign Minister Hossein Amirabdollahian said Tehran was ready to "immediately conclude" a deal in talks to revive its 2015 nuclear accord with world powers if Western powers show real will.
Ambirabdollahin is due on Tuesday to report to the Iranian parliament on the progress of the talks, local media said.
On Friday, a senior U.S. State Department official said negotiators had made significant progress in the past week or so on reviving the deal, but very tough issues remained.